Baldwin — Dog owners and their pets know her as the "biscuit lady" at the Lawrence Farmers Market.
It's a nickname Khristina Kirkstatter welcomes.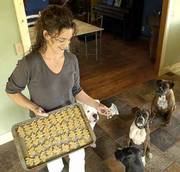 As proprietor of Lucky Paws Bakery, she bakes handmade dog treats nearly every day at her rural Baldwin home. She's at the market every other Saturday selling her wares.
"I've been a dog nut forever, and I love hearing people's stories," she said. "I sometimes know people by, 'Oh, you're Jake's mom,' when they stop by to get some more biscuits."
About 10 years ago, Kirkstatter started making homemade dog treats for a puppy she adopted from the Wichita Animal Shelter. She said she wanted her pet to eat something healthy and natural instead of store-bought processed treats.
"I didn't have any intentions beyond that, and it has just blossomed from there," she said.
Now, Kirkstatter, 29, makes more than a dozen kinds of treats including Fat Cats, apple and cinnamon kitten-shaped biscuits; Beggin' Bits, small biscuits in chicken, barbecue, peanut butter or beef flavors; and Puparazzi Pizza Pleasers, an Italian-flavored biscuit.
All the biscuits are tested and approved by her five boxers: Rex, Liza Sue, Harley D., Baucchus and Duke.
"If they don't like it, then I'm not going to sell it to anyone," she said.
Nutrition plays a big role in the dog treats.
Kirkstatter uses natural ingredients such as organic whole-wheat flour, real butter, free-range eggs from an area farmer and fresh herbs from her garden. The treats contain no salt or sugar but are sweetened with molasses or maple syrup.
"All the additives and preservatives aren't good for us, and they're not good for them either," she said.
She thinks her oldest boxer, Rex, has outlived his breed's normal life expectancy of 8 to 10 years thanks, in part, because of her treats.
"Rex is 12 and he's lived a long time longer than what they usually do," she said.
Kirkstatter's boxers also are spoiled because they turn their noses up at store-bought treats.
"Wouldn't you rather have this than a piece of cardboard?" she joked as she cut out some chicken biscuits in her kitchen.
Many of her recipes are experiments. For example, Kirkstatter had several jars of chicken and beef puree that her daughter, Madeline, 3, wouldn't eat when she was younger.
"I knew I wasn't going to eat that, so I decided to make dog biscuits out of the puree," she said.
This fall, Kirkstatter plans to make pumpkin-flavored and leaf-shaped biscuits, and will add carob bonbons and gingerbread cookies for Christmas. She also wants to experiment with other herbs such as chamomile and echinacea.
"I'm constantly playing with different herbs to see what works," she said.
In addition to the farmers market, Kirkstatter's pet treats are available by free delivery in Baldwin and Lawrence.
She also offers the Lucky Paws Club, which delivers one pound of Howl Wheat Milk Bones and a dozen cookies once a month throughout the year. The club costs $15 per month; customers determine the delivery date.
In addition, she designs customized Lucky Paws gift baskets filled with dog treats that can be delivered nationwide. She sells puppy baskets for new pet owners at Clinton Parkway Animal Hospital, and other veterinary offices sell her products during the holidays.
"Most pet owners like to do something special for their pets around Christmas," she said.
Kirkstatter said she hopes to create a Web site and sell her dog treats via the Internet. She even dreams of having her own store on Massachusetts Street someday.
"Honestly, it's already more than I thought it would be," she said. "I love meeting people and their pets. It's really been enjoyable. Plus, I get to stay home with my daughter, and she's my priority."
Copyright 2018 The Lawrence Journal-World. All rights reserved. This material may not be published, broadcast, rewritten or redistributed. We strive to uphold our values for every story published.