New York — Mike Piazza gave all of New York a home run from the heart, launching a two-run drive in the eighth inning that lifted the Mets over Atlanta, 3-2, Friday night and further tightened the NL East race.
On an emotional evening dedicated to paying tribute to the victims of the World Trade Center attack, Piazza gave 41,235 fans a reason to let loose and cheer.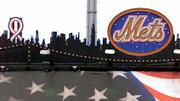 Piazza had already doubled twice when he hit his 34th homer, a monstrous drive over the center-field fence off native New Yorker Steve Karsay (3-4).
"I'm just so happy I gave the people something to cheer," Piazza said. "There was a lot of emotion. I'm just so proud to be a part of it tonight."
Before the game, Piazza and some of his teammates spoke with some of those directly affected by the tragedy.
"These people are great," Piazza said. "New York has been so strong through all this. I feel so sad. I met two kids today who lost their fathers."
Emotions were high on and off the field. Karsay, still upset about a close, 3-2 pitch to Edgardo Alfonzo that resulted in a one-out walk before Piazza, charged plate umpire Wally Bell after the inning. Karsay was restrained by teammates.
The Mets, playing at Shea Stadium for the first time since Sept. 2, won for the 10th time in 11 games and pulled within 41*2 games of the first-place Braves.
Armando Benitez (6-3) got the win despite.
Philadelphia, which beat Florida 1-0, closed within a half-game of Atlanta.
Up until Piazza's homer, the Braves had played it perfectly. They hugged the Mets in a pregame tribute, cheered Mayor Rudolph Giuliani and applauded Liza Minnelli when she sang "New York, New York" during the seventh-inning stretch.
The Mets also did it right. Their players, coaches and manager Bobby Valentine donated a day's pay about $450,000 to the families of the police officers and firefighters killed during the attacks.
Up until Piazza homered, the biggest ovation of the night when to Giuliani in a ballpark where the Yankee fan is booed during interleague games.
Cardinals 9, Pirates 5
Pittsburgh Albert Pujols hit his first grand slam a go-ahead shot in the ninth that also gave him the major league record for extra base hits by a rookie and drove in five runs as St. Louis won its eighth in a row. Pujols also doubled in a run in the fifth and has 83 extra-base hit.
Phillies 1, Marlins 0
Philadelphia Brian Hunter's pinch single scored Marlon Anderson in the ninth inning to give the Phillies a win over Florida. The Phillies, who moved within a half-game of Atlanta in the NL East, have won six of seven games.
Rockies 11, Expos 9
Montreal Todd Helton singled in the go-ahead run against Guillermo Mota (1-3) in the 11th inning for his 500th career RBI. Kane Davis (2-4) pitched the last two innings for the win after Colorado wasted leads of 5-1, 6-5 and 9-8.
Reds 5, Brewers 2
Milwaukee Ken Griffey Jr. hit a three-run homer to lead Cincinnati over Milwaukee.
Cubs 12, Astros 4
Houston Fred McGriff drove in a season-high five runs with a double and home run, and Sammy Sosa hit his 55th homer for Chicago. Houston, saw its NL Central lead shrink to 31*2 games over St. Louis. The Cubs remained 21*2 games behind the Cardinals in the wild card race.
Giants 2, Padres 0
San Diego Barry Bonds had an RBI single off Brian Lawrence (4-4) and Jason Schmidt (12-7) won his fifth straight decision. The Giants remained two games behind NL West-leading Arizona.
Diamondbacks 10, Dodgers 0
Los Angeles Miguel Batista (10-8) allowed four hits in seven scoreless innings, and Matt Williams hit a grand slam, dropping the Dodgers four games back in the NL West.
Late Thursday
Dodgers 3, D'backs 2
Los Angeles Shawn Green hit his 47th homer with two outs in the 13th inning.
Copyright 2018 The Associated Press. All rights reserved. This material may not be published, broadcast, rewritten or redistributed. We strive to uphold our values for every story published.