Ligonier, Pa. — Rocco Mediate knew where he was going Friday, although that was no guarantee he would wind up in the lead at the Pennsylvania Classic.
Mediate hit his drive exactly where he was aiming on the 10th hole, a dogleg to the right where the best shot appears to be down the left side of the fairway. He chuckled when he heard some fans murmur behind him.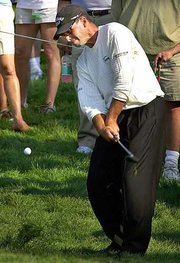 "It looks likes it's going in the next county," Mediate said. "And I'm looking around going, 'No, it's in the middle of the fairway.' There are a lot of holes like that."
Mediate knows them all.
He grew up about 20 miles down the road. He's been a member of Laurel Valley Golf Club the past six years. He couldn't count the number of times he has played the course, nor could he estimate how many relatives and friends he had in the gallery.
They had plenty to cheer on a mostly sunny afternoon in Pennsylvania. Mediate was the clubhouse leader after a 4-under 68 put him at 137. He was tied with Steve Flesch, who was 7 under through 10 holes when play was suspended by darkness.
"I was a bit nervous yesterday, teeing off, being at home in front of everybody," Mediate said. "I can tell the people are pulling for me."
Nick Price, who led after the first round with a 66, remained at 6 under through seven holes. Steve Elkington also was 6 under through 10 holes.
Play has been behind since a four-hole rain delay Thursday, compounded by a one-hour delay Friday morning because of fog. The second round will be completed today, and tournament officials hope to get on track by Sunday.
Half of the field will have to return, some forced to play as many as 32 holes.
Fans had more to cheer than just Mediate. That other local product Arnold Palmer played on as a non-competing marker even after withdrawing from the tournament.
"He won't let these people down," Mediate said. "No way. I don't care what he shoots. It doesn't matter."
It didn't to Palmer, either.
Had he counted his last two holes, it would have been a 90. He never turned in a card and therefore withdrew. But the King played on for a large gallery that cheered him along.
"I was ready to pack it in," Palmer said. "I know a lot of the people came out to see me play, and that's a lot of the reason why I played."
While playing at a course with which he is familiar helped Mediate, his swing was a large part of the equation.
Mediate showed he was on track with a 9-iron that stopped about a foot from the cup on No. 2. He also knew he could shave off some of the distance on the 534-yard third hole by aiming down the right side of the fairway. That left him a 4-iron to the green, setting up a two-putt birdie.
He played a pitching wedge to the left edge of the 13th green and used a bank to stop just inches from the cup.
Still, Mediate must have forgotten about a sprinkler head hidden in the first cut of rough just off the 17th green.
He played a flop shot from behind the bunkers that looked like it might hop onto the green and finish in good shape. Instead, it landed squarely on the sprinkler, shot up in the air and went 20 feet past the hole, leading to bogey.
"Who knows?" Mediate said. "That ball might have stayed in the rough."
Mediate has won four times on the PGA Tour, his biggest likely coming in the 1999 Phoenix Open when he went toe-to-toe with Tiger Woods in the final round.
This would be his biggest.
"Winning at home doesn't happen that often," Mediate said.
His mother, who recently had knee replacement surgery, was driven around the course in a cart so she could see her son play.
"My dad watches me all the time, but my mom never gets to watch much," he said. "It was real nice to see her watching me play."
Of those who finished 36 holes, Willie Wood had another 2-under 70 and was at 140, along with Briny Baird (71), Olin Browne (71), Greg Kraft (68) and Larry Mize (67).
Baird shrugged off local knowledge of Laurel Valley, especially because he was in contention having never seen the course. Then he was reminded that Mediate was leading.
"Obviously, he likes the course," Baird said.
Copyright 2018 The Associated Press. All rights reserved. This material may not be published, broadcast, rewritten or redistributed. We strive to uphold our values for every story published.