Austin, Texas — Maybe the Houston Cougars are mad because Chris Simms threw deep on them late in a 48-0 Texas win last year.
Perhaps they're still stewing over a season-opening loss to Rice way back on Sept. 1.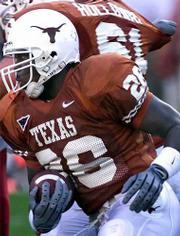 Whatever the reason, Houston players provided plenty of bulletin board material to fire up No. 5 Texas when the Longhorns (2-0) and Cougars (0-1) play tonight.
"I think they made a mistake by naming Simms as the starter," over backup Major Applewhite, said Houston safety Hanik Milligan.
"Applewhite is more poised and smarter. Simms is just a running back out there. He's got a lot of receivers so he's just pretty much playing street ball."
Houston players believe they speak from experience.
Simms started last year against the Cougars but the offense struggled until he was relieved by Applewhite. He finished the game with two interceptions and threw for one touchdown.
"I'm not going to hit him (Simms) hard, I want him to stay in the game because if Applewhite gets in the game, he's smarter than Simms is," Houston defensive end Adrian Lee said.
Simms' teammates came to his defense.
"It's easy to do a lot of talking, but it's a lot harder to back it up," said Longhorns defensive tackle Maurice Gordon. "Talking is easy. You can sit on the bench and talk. But if I'd gotten beaten 48-0, honestly, I wouldn't have much to say."
Simms has stood against tougher verbal sparring than that, some of it coming from Texas fans who still believe Applewhite should be the starting quarterback.
Although the Longhorns passing game has struggled in their first two games, Simms says he's comfortable with the offense's progress.
Texas is 2-0 for the first time under coach Mack Brown behind a more conservative rushing attack and a strong defense and special teams.
"We're just doing what we have to do. And we haven't done a whole lot of it. We don't want to be peaking right now anyway," said Simms, who has completed 50 percent of his passes for 349 yards and two touchdowns.
"Personally, I think we're in great shape," offensive lineman Mike Williams said. "You look at the film, and we're real close to breaking out. I would say by the third game, we'll be clicking."
A big part of the sluggish start has been Texas' commitment to establishing a running game.
Although Texas has yet to produce a 100-yard rusher this season, the Longhorns averaged 165 yards on the ground in their two victories.
Texas coach Mack Brown hinted the Longhorns will loosen up tonight.
"We're going to continue to force the run some," Brown said. "But we're not going to be as stubborn as we've been the first two weeks."
Copyright 2018 The Associated Press. All rights reserved. This material may not be published, broadcast, rewritten or redistributed. We strive to uphold our values for every story published.