If high school football games lasted just three quarters, Free State would be in the hunt for a Sunflower League championship.
Instead, the Firebirds are 0-4 and at the bottom of the standings after squandering another lead in the fourth quarter. Olathe East, now 4-0, scored 18 unanswered points in the second half to rally for a 30-26 victory over snakebitten Free State on Friday night at Haskell Stadium.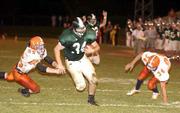 "Something about the fourth quarter is haunting us," said FSHS coach Bob Lisher, whose squad has wasted three fourth-quarter leads in four games. "The fourth-quarter jinx will have to go our way sooner or later."
Free State's four games have been decided by three, five, eight and now four points.
"It's really frustrating," FSHS senior running back/linebacker/punter Walker Douglas said of the fourth-quarter lapses. "We have a chance to win in every fourth quarter and we just fall apart at the end. I'm not sure what it is. We're going to get it fixed next week in practice."
Douglas, a 6-foot-1, 215-pounder, rushed for a game-high 105 yards and scored all four Firebird touchdowns against the Hawks. He had TD runs of 15, two, 17 and four yards. His four-yard run with 4:26 left in the third quarter provided the Firebirds with a seemingly comfortable 26-12 advantage.
Olathe East, though, scored touchdowns on its next three possessions. Senior running back Joe Gaines' one-yard run with 8:23 left in the fourth quarter was the go-ahead TD. FSHS quarterback Matt Berner was intercepted twice in the fourth quarter.
"I felt we were in control pretty much the whole game until the last eight minutes when we had a couple of turnovers on our end of the field, then they came down and put it to us," Douglas said.
The Firebirds finished with 256 yards total offense 122 rushing and 134 passing. FSHS was hampered by four turnovers and 75 yards worth of penalties. Two of the turnovers led to O-East TDs.
Free State's final series stalled at midfield after Berner was sacked by defensive end Jeff Schieber for a 13-yard loss on fourth down with 1:42 left.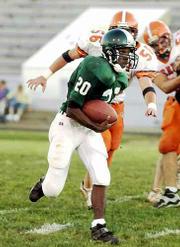 "It wasn't pretty but I was proud of our team for keeping their composure and coming out with a win," said O-East coach Jeff Meyers, whose Hawks had surrendered just 18 points the first three games. "We got momentum on our side when it was important to get momentum. We made a lot of mistakes, but we made big plays when we had to and that was the difference."
The Hawks, who overcame three lost fumbles, compiled 292 yards total offense 139 rushing and 153 passing. Quarterback Marcus Snozek completed six of 12 passes, including two for touchdowns. Gaines led the ground game with 23 carries for 89 yards.
Free State dominated the first half, running 35 plays to O-East's 20. The Firebirds controlled the ball for 16 of the half's 24 minutes and had a 20-12 lead at halftime.
"Our kids are very, very close to being a good football team," Lisher said. "It comes back to giving up some plays and being out of position. I really thought our kids played hard. In the fourth quarter we made some fundamental mistakes and it put us in a bad position.
"Olathe East is a good football team. They're not 4-0 for no reason. We've been in every football game with a chance to win it. It's getting kind of old saying that. Our kids aren't quitting. They're playing hard."
Free State's Tyrone Rayton, Tyler Morgan and Mike Cobb all had a fumble recovery to lead the Firebird defense.
The Firebirds' schedule doesn't get easier. Free State will travel to Olathe on Thursday to play defending Class 6A state champion and top-ranked Olathe North. Kickoff for the FSHS-Olathe North game is 7 p.m. In two weeks, the Firebirds will entertain unbeaten Olathe South.
Before the FSHS-Olathe East game, there was a moment of silence to remember two members of Free State's extended football family. Free State assistant Justin Wrecke's father and Steve Vormehr, a FSHS booster and the father of Firebird volleyball players Amy and Katy, both died unexpectedly on Thursday.
"We're down right now," Douglas said. "Coach Wrecke lost his father and the Vormehr twins lost their father. That's more important than this game. It's only a game."
Lisher said the recent events had taken a toll on his squad.
"Our kids faced a lot of adversity this week, still with the terrorist attacks and with coach Wrecke's father and Steve Vormehr dying," Lisher said. "That's weighing heavily on our kids' minds. They're pretty close to those people. I was proud of them for the fact they showed up and played hard."
Sports writer Steve Rottinghaus can be reached at 832-7152.
Copyright 2018 The Lawrence Journal-World. All rights reserved. This material may not be published, broadcast, rewritten or redistributed. We strive to uphold our values for every story published.