A variety of paths, trails and roads await the community's bicycle enthusiasts.
From fast-paced and leisurely trails to social rides and off-road bicycling, the Lawrence area offers it all with its numerous recreational paths and rural countryside.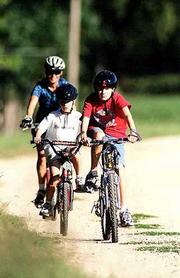 And it doesn't take much effort to get involved in bicycling, said Curtis Martell, president of the Lawrence Mountain Bike Club.
"It's pretty simple you just need a bike and a helmet," he said. "Then, they need to go out and start riding. You just learn a lot of things by being out there. Spend time at the local bike shops, too. They're great sources of information."
Martell also urged people to get involved with one of Lawrence's cycling clubs. In addition to the mountain bike group, these include the Lawrence Bicycle Club, which emphasizes recreational road riding, and the Museum Cycling Team, a competitive amateur group.
Cyclists looking for a little adventure may be interested in the Riverfront Trail, just east of the boat ramp at Eighth and Oak streets in Riverfront Park. Martell said the mountain bike club meets there at 6:30 p.m. Fridays for weekly rides.
"It's really, really fun to ride because it's pretty smooth, and it twists and turns quite a bit," he said. "There's some jumps and it's almost a nine-mile round trip."
For families or less-daring cyclists, Dan Hughes, general manager of Sunflower Outdoor and Bike Shop, 802-804 Mass., suggests the city's trail along the Kansas River levee.
"The levee is perfectly flat and is a good surface to ride on," he said. "Most people ride it to the east and feel like they're flying along, but then they have to head back and it's in the headwind."
The levee's western trail head is at Perry Lake State Park. Other city bike paths follow Clinton Parkway, Peterson Road and Naismith Drive.
Another favorite riding route is the 10-foot-wide path that starts near Southwind Twelve, 3433 Iowa, and follows the western leg of the South Lawrence Trafficway.
But Paul Corcoran, Lawrence Bicycle Club's secretary, said his group likes to ride even farther 20 miles altogether. He said the group will continue from where the trail ends and take a gravel road east back into Lawrence past Martin Park.
The club will meet for illuminated bike path rides at 6:30 p.m. Tuesdays from Oct. 2 through March.
"Those rides are social rides," he said. "We can sit and talk. It's not competitive. All we're doing is riding out and back and socializing with other people."
For the endurance rider, the bicycle club offers a Sunday Show-and-Go ride. He said this ride features varying destinations, such as Wellsville, Oskaloosa or Tonganoxie, depending on the weather and who shows up. Interested riders should meet at 10:30 a.m. Sundays at the gazebo in South Park, just south of downtown.
"As a bike club, we're trying to appeal to every rider," he said. "We'd like to have more people like the everyday person who just wants to enjoy the surroundings and have a good time."
Those who are ready to race also have an outlet.
Eric Struckhoff, president of the Museum Cycling Team, said the club races primarily on the county's paved roads. Rides depart at 5:30 p.m. Wednesdays from Kansas University's Wescoe Hall.
He said the group include cyclists of all abilities, so people shouldn't be intimidated if they want to try something different.
"We have people on our team who can help them learn about it or just be a good teammate," he said. "We provide teammates to ride with and an environment to introduce people to it."
Copyright 2017 The Lawrence Journal-World. All rights reserved. This material may not be published, broadcast, rewritten or redistributed. We strive to uphold our values for every story published.