Marty Miller didn't expect bad news when he stopped into his neighborhood auto parts store for a couple of taillights Friday afternoon.
But he quickly hit the brakes.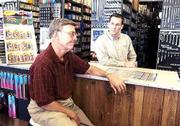 "We're closing, Marty," said Jeff Riner, manager of Larry's Auto Parts, 1502 W. 23rd St. "We held on as long as we could, but we figured it was time for a change. A lot of things have changed."
Miller, who runs a small carpentry business nearby, paid his 98 cents before pondering the unwelcome fate of yet another family-owned operation shutting down.
"I do what I can to support local businesses," he told Riner, sympathetically, "and I get ticked off when they leave."
Friday's sale indeed proved to be too little, too late for Larry's Auto Parts, which closes this evening after nearly 32 years in business.
Riner said that the shop founded by his father-in-law, Larry James, couldn't keep up with increasing competition, shifting customer attitudes and longer-lasting vehicles.
"The mom-and-pop stores, there just aren't going to be a lot of them around," Riner said. "We've seen that in hardware stores and grocery stores and the whole bit. The big guys have greater buying power, and it just makes it tough."
But it's been a good run, James said.
When he opened the place in 1969 alongside W.B. Auto Sales, northeast of 23rd and Louisiana streets, the city had several dozen gasoline stations that provided full-service garage operations. James' business grew consistently until 1996, when it peaked with monthly sales of $60,000.
But as the number of full-service gasoline stations dwindled and chain parts stores multiplied sales dipped about 5 percent a year. James soon sold his controlling share of the business to a Wichita-based parts chain, which last month decided to pull the plug.
The shop's 25,000 different parts from 10-cent, valve-stem caps to $700 engine-control computers will be packed up for distribution to other company stores, closing the book on another chapter of Lawrence's small-business past.
James is resigned to the closing, even comfortable. All of his children Ronda, Randy and Rachelle worked at the shop at some point, making it a family operation.
Ronda, who was born the day her father opened the place, later would marry Riner, who was working as a driver and clerk behind the counter.
"It's kind of sad, but times change," Larry James said, leaning against the counter. "It's time to move on, I guess."
Copyright 2018 The Lawrence Journal-World. All rights reserved. This material may not be published, broadcast, rewritten or redistributed. We strive to uphold our values for every story published.