Eudora — After Eudora High's 38-30 football victory over Spring Hill on Friday night, a friend of Cardinals coach Aaron Barnett congratulated the coach.
"It was close, but it's still a 'W'," the friend said as he patted Barnett on the back.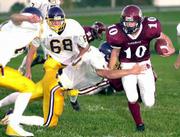 Barnett responded with a sigh and said, "I guess we started subbing too early."
You can't blame him for putting the second- and third-stringers in when his team led 38-15 with more than eight minutes left in the third quarter.
But then the Broncos scored two touchdowns, including a two-point conversion to make it 38-30 with 2:01 remaining.
An onside kick later and Spring Hill (3-1) had the ball inside Eudora (3-1) territory. Then quarterback Hunter Bigbie found Clint Whitson, who caught seven passes for 123 yards, for a 32-yard completion. Two plays later, Bigbie threw in Whitson's direction, but Andy Pyle stepped in front of the 6-foot-3 receiver for a game-saving interception.
The win puts Eudora in a five-way tie for second place in the Frontier League with Gardner-Edgerton, Baldwin, Louisburg and Spring Hill. Paola is atop the league with a 4-0 record.
"They got a couple of breaks and we made a few mistakes and they were back in the game," said Eudora defensive captain Zac Tyler. "At the end there the wheels fell off a little, but we kept at it and Andy made the play at the end."
Pyle also made plays on offense all game long. The 5-foot-9 senior ran the ball 24 times for 207 yards including runs of 43, 31, 30 and 24 yards and two touchdowns.
"His balance is tremendous," Barnett said. "He's a good back and he can make guys miss. They get their hands on him and sometime she'll slip right through them."
And make them miss he did. During an offensive series in the second quarter, he was the only Cardinal to touch the ball, aside from the center and quarterback, and ran seven consecutive times for 83 yards and a touchdown.
On one carry he ran off the right tackle and into the secondary, where a defensive back took hold of him 12 yards from the line of scrimmage. But Pyle spun away from him toward the sideline and put his free hand down to regain his balance and scampered away for an additional 12 yards.
Tyler had similar success running the ball he totaled 83 yards but was given the ball just three times. Barnett said Tyler receives so few carries because the team needs him to stay as fresh as possible for defense.
"I do what I need to do for the team," Tyler said as grin spread across his face. "I'd rather hit a guy than break a long run. Besides, they don't need me on offense when they've got Pyle."
Eudora 38, Spring Hill 30
Eudora (3-1) 12 12 14 0 - 38
Spring Hill (3-1) 0 15 7 8 - 30
Eudora - Andy Pyle 2-yard run. Kick failed 2:49
Eudora - Joe Born 6-yard run. Conversion failed 1:48
Spring Hill - Kyle Barrett 19-yard pass from Hunter Bigbie. Barrett kick 10:52
Eudora - Pyle 7-yard run. Conversion failed 8:26
Spring Hill - Bigbie 7-yard run. Aaron Barnett run 2-point conversion 5:56
Eudora - Zac Tyler 39-yard run. Conversion failed 3:57
Eudora - Tyler Jackson 1-yard run. Tyler kick 10:05
Eudora - Lear Bowling 42-yard pass from Ronnie Morelan. Tommy Shutt kick 7:03
Spring Hill - Clint Whitson 21-yard pass from Bigbie. Barrett kick 1:28
Spring Hill - Bigbie 4-yard run. Bigbie run 2-point conversion 2:01
Copyright 2018 The Lawrence Journal-World. All rights reserved. This material may not be published, broadcast, rewritten or redistributed. We strive to uphold our values for every story published.