The bright balloons and cheerful face-painters masked something grimmer Friday at Central National Bank.
Parents brought their children to the bank's location at Seventh Street and Wakarusa Drive to have the inside of their cheeks swabbed. The swabs were packed in sealed tubes. The reason: so the parents would have a DNA sample to provide police just in case.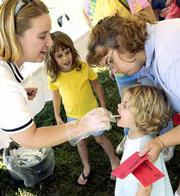 That undefined but horrible prospect was difficult for Cassie Klemme to talk about as she watched her 8-year-old son, Jerry Ratcliff, submit to the test.
"It's in case something ever happens to him," she said. "This way we'll know."
The bank partnered with the Lawrence Chamber of Commerce to offer the testing Friday. A second round is available to the public, free, between 9 a.m. and 4 p.m. today.
"We're doing this for child safety," said Charles Derby, the bank's vice president. "DNA testing is what they call the fingerprint of the new millennium."
The sampling process is so simple that plastic-gloved bank employees, not trained technicians, were doing the swabbing. They put the tubes inside an envelope for parents to take.
"There's no databasing going on," Derby said. "The only copy of this goes home."
Derby said the sampling program had been planned for four months. Last week's terrorist attacks on America gave it fresh impetus, however.
Family members of those missing in the New York attacks have been providing DNA samples to help identification of the bodies pulled from the World Trade Center.
Klemme said the attacks helped motivate her to bring her son.
"It scared me," she said.
Derby said the DNA sampling shouldn't be viewed too darkly.
"We hope it never has to be used," he said. "It's for law enforcement investigation it's not always for the worst-case scenario."
Copyright 2018 The Lawrence Journal-World. All rights reserved. This material may not be published, broadcast, rewritten or redistributed. We strive to uphold our values for every story published.