The benefits of an ageless arm, healthy run support and pitching for the three-time defending world champions continue to show each time Roger Clemens grips a baseball.
By season's end, he also could be holding another record.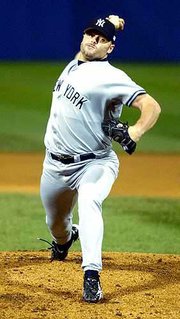 Clemens tied the American League mark for consecutive victories in a single season with his 16th on Wednesday, turning in 6*3 innings for the New York Yankees to remain unbeaten since May 20. He joined the Washington Senators' Walter Johnson and Boston Red Sox's Joe Wood, both in 1912, the Philadelphia Athletics' Lefty Grove in 1931 and the Detroit Tigers' Schoolboy Rowe in 1934.
The major-league record for consecutive wins in the same season is 19, shared by the New York Giants' Tim Keefe (1888) and Rube Marquard (1912). The Yankees have 16 games remaining, giving Clemens a chance to tie it.
He'll do so under far less scrutiny than Barry Bonds is under for attempting to break Mark McGwire's single-season home run record of 70.
"I don't think you can compare this to (McGwire's) record," said Steve Hirdt, executive vice president of Elias Sports Bureau, Major League Baseball's official statisticians. "By saying this, I intend no disrespect to Roger Clemens, who's obviously had a spectacular year. But clearly the parallel to Bonds does not hold up. Is it a worthless feat? Obviously not. It's significant. But does it have the significance of the record Bonds is chasing? I would answer no. I don't see how anyone could answer anything but that."
The overall record for most consecutive wins spanning multiple seasons is 24 by Carl Hubbell of the 1936 and 1937 New York Giants. Clemens possesses the AL mark of 20 while pitching for the Toronto Blue Jays in 1998 and the Yankees in 1999.
No other pitcher, however, has won 20 of his first 21 decisions, which Clemens has done to turn the Cy Young race into a one-man marathon.
Unsure how he'd react to playing for the first time since last week's terrorist attacks, Clemens allowed three runs (two earned) and five hits in a 6-3 victory over the Chicago White Sox. Though not at his sharpest he struck out only one batter, Paul Konerko to end the sixth Clemens continued to travel on the same wide path, with the Yankees again supplying plenty of offense.
They've scored 189 runs in his 30 starts, an average of 6.3 per outing.
Copyright 2018 The Lawrence Journal-World. All rights reserved. This material may not be published, broadcast, rewritten or redistributed. We strive to uphold our values for every story published.