Rockingham, England — CART's Rockingham 500 was in jeopardy Friday with drainage problems on the new oval and some frustrated drivers concerned about safety.
So-called "weepers" spots where underground water bubbles through to the surface washed out practice Thursday and Friday. Unlike Formula One, races on banked ovals cannot run on a damp surface.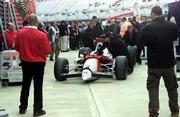 CART chairman Joe Heitzler said a 2-hour, 10-minute practice would be held today with the race following at 10:10 a.m EDT. The race had been scheduled for 7:30 a.m. EDT.
CART said the race, expected to draw 40,000 to the 52,000-seat circuit, could be held Sunday if there was more rain, or the track failed to dry.
The grid today will be set according to season points as it was a week ago in Germany for the American Memorial 500 with Kenny Brack on the pole followed by Gil de Ferran and Michael Andretti.
Crews at the new speedway in central England worked overnight and all day Friday drilling about 4,000 holes into the surface of the 11*2-mile oval, hoping to relieve underground pressure and speed drying. The problem spots were worst between turns two and three on the backstretch.
Rockingham chief executive David Grace defended engineering on the new $72 million circuit and said the problem was due to several days of heavy rain, which ended early Thursday.
"We have a lot of rain over the last week. We've run this track before and it does dry. What we've been trying to do is dry it quicker than it's ever dried before."
Track officials used four large track-drying machines Friday and hoped to have two more in use later in the day. A track spokesman said 1,500 gallons of jet fuel had been burned to run the jet dryers.
Grace denied the problem was a "civil engineering issue" and said the track was insured against "losses due to rain."
"We're happy with the way it's been constructed and what we're trying to do is create a faster drainage system to cope."
The track is built over a reclaimed iron-ore mine. Beneath is a heavy clay surface, which is apparently impeding drainage in a country that receives heavy annual rainfall.
CART has already been forced to cancel one race this season in Fort Worth, Texas, for safety reasons. Another race in Brazil was called off for financial reasons before the season began.
French Canadian driver Alex Tagliani, who was involved in the near-fatal crash last week with Zanardi, suggested there were safety issues.
"It's impossible to do a good job tomorrow," Tagliani said. "It's impossible to have a 500-mile race with a two-hour practice, changing the engine afterwards. There won't be time for the right setup."
"It's makes no sense. It's a new track. We have no data to work with. It's not safe for us. Personally, I don't want to race tomorrow. If I have no choice, I will do it."
Patrick Carpentier, Tagliani's teammate at Team Players, was just as outspoken.
"It's a lack of organization," Carpentier said. "It should have been ready a month ago. You can see that they are not ready now. We look bad because people might think we are scared to go on the track, but it's only a matter of our safety."
Driver Tony Kanaan didn't mention safety worries, but admitted he was concerned.
"I think it is bad for everyone," Kanaan said. "This (rain) is the only thing we can't control."
Heitzler denied safety was being overlooked and said rain and moisture problems on ovals were typical. The Indy 500 has had similar problems.
"We've talked it over with the drivers and team managers," Heitzler said. "We are not going to compromise safety to run the race."
Heitzler described the two-hour practice as "sufficient" and said the course was "similar to other ovals we race on in our series." He said a road race was considered, but the track had no license from the FIA the world governing body for such a race.
"We trust our promoters and we trust those who build tracks that they build them to the specifications that will enable them to be successful. Obviously, we're going to look into how those issues were handled."
Last Saturday's American Memorial 500 drew a near sellout crowd of 87,600 but was marred by a crash in which Alex Zanardi lost both of his legs.
Copyright 2017 The Associated Press. All rights reserved. This material may not be published, broadcast, rewritten or redistributed. We strive to uphold our values for every story published.