New York — Al Leiter stared at the miniature New York City skyline atop the right-field scoreboard, and closed his eyes.
The World Trade Center's twin towers were still standing, covered by a red, white and blue ribbon.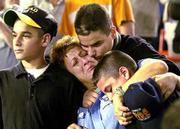 "I hadn't noticed it," the New York Mets pitcher said, pausing to take a long, deep breath. "I'm glad they left them up. Those people will not be forgotten."
Amid tight security at Shea Stadium, baseball returned to the city Friday night for the first time since last week's terrorist attacks. Mike Piazza hit a two-run homer in the eighth inning as the Mets rallied to beat Atlanta, 3-2.
Mayor Rudolph Giuliani, singers Diana Ross and Marc Anthony and bagpipers took part in a pregame tribute that was both solemn and uplifting, and Liza Minnelli later led the crowd of 41,235 in singing "New York, New York."
The start of the game was pushed back for a 30-minute ceremony that included the city's police, fire and emergency medical personnel throwing out the first balls. The tribute finished with Mets and Braves players in the midst of a pennant race hugging in the middle of the diamond.
Giuliani drew the biggest ovation, by far in a ballpark where the noted Yankees' rooter is routinely booed during interleague games.
Wearing an "FDNY" pullover shirt and a cap with the police department shield, he was cheered by Mets and Braves alike. Giuliani stepped down into Atlanta dugout and got a vigorous pat on the back by manager Bobby Cox.
Mets manager Bobby Valentine raised his arms and led cheers of "Rudy! Rudy!"
"This is the way life gets back to normalcy. You can't just concentrate on the tragedy. It's so wonderful that these people have such confidence to turn out in such large numbers," the mayor said.
l Game story on page 4C
Copyright 2018 The Associated Press. All rights reserved. This material may not be published, broadcast, rewritten or redistributed. We strive to uphold our values for every story published.