Minneapolis — Rick Reed thought about Torii Hunter's three-run, second-inning homer and whether it took off pressure as he pitched against Cleveland's powerful lineup.
"It didn't," he said. "Maybe if he would've hit a 12-run homer."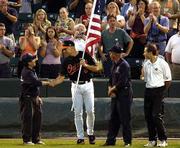 Reed remained tough, winning consecutive starts for the first time since joining the Twins and keeping alive Minnesota's slim playoff hopes with a 6-2 victory over the Indians on Friday night.
Reed (4-3) allowed two runs and six hits in 71*3 innings as the Twins cut Cleveland's lead in the AL Central to five games. With 14 games left in the regular season, the two teams play five more times.
Roberto Alomar hit a solo homer in the eighth to chase Reed. Eddie Guardado got the last two outs for his seventh save in nine chances.
Rookie C.C. Sabathia (15-5), pitching on 11 days' rest, struggled for the second straight time. He gave up six runs and six hits in 52*3 innings and tied a season-high with five walks.
Minnesota went ahead in the third when Brian Buchanan and Corey Koskie walked ahead of Hunter's homer.
Sabathia walked three more in the third, including Hunter with the bases loaded.
Orioles 7, Yankees 6
Baltimore Jerry Hairston singled in two runs in the bottom of the ninth as Baltimore stalled New York's drive to another division crown. The loss, combined with Boston's win over Detroit, left New York's magic number for clinching the AL East title at five. After the Yankees took the lead in the top of the ninth, Baltimore bounced back against Mariano Rivera (4-6).
Red Sox 5, Tigers 2
Boston Manny Ramirez and Doug Mirabelli each hit two-run homers and Casey Fossum earned his first win as a starter, leading Boston over Detroit. Fossum (2-1) allowed two runs on three hits in five innings to give Boston its first back-to-back victories since Aug. 23-24. Tim Wakefield pitched three innings and Ugueth Urbina struck out three in the ninth to get his sixth save.
Devil Rays 7, Blue Jays 4
Toronto Bryan Rekar won for the first time in more than three months and Toby Hall hit a three-run homer to lead Tampa Bay. Brandon Lyon (5-3) allowed back-to-back singles to Brent Abernathy and Steve Cox before Hall hit his third home run, giving Tampa Bay. Rekar (2-13) allowed four runs and seven hits in 62*3 innings. Esteban Yan pitched the ninth for his 18th save.
Rangers 9, Angels 8
Arlington, Texas Alex Rodriguez hit his 47th homer to tie Ernie Banks' major league record for home runs in a season by a shortstop. Rodriguez led off the fifth inning with a blast into the right-field seats off Ismael Valdes (9-11) to give the Rangers a 6-2 lead. Rookie Carlos Pena went 4-for-4 and had a career-high five RBIs for Texas. Rangers starter Rob Bell (5-4) won for the first time since July 27 and Jeff Zimmerman earned his 25th save.
Athletics 5, Mariners 1
Oakland, Calif. Cory Lidle (11-6) pitched seven scoreless innings of five-hit ball, and Terrence Long had three hits as Oakland won for the 17th time in 19 games. Jason Giambi hit his 34th homer, off Paul Abbott (15-4).
Copyright 2018 The Associated Press. All rights reserved. This material may not be published, broadcast, rewritten or redistributed. We strive to uphold our values for every story published.