New York — Atty. Gen. John Ashcroft on Friday brought the Bush administration's defiant optimism to New York, vowing to rebuild after getting his first look at the ruins of the World Trade Center.
"It is our nature," Ashcroft said after shaking hands with rescue workers at ground zero of the worst terrorist attack in American history. "It is our spirit. It is dedication; it is our commitment."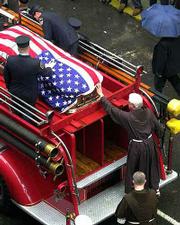 Ashcroft and FBI Director Robert Mueller, accompanied by Mayor Rudolph Giuliani and Police Commissioner Bernard Kerik, walked from City Hall to the spot where the twin 110-story towers once stood.
They stopped several times as Giuliani explained how the towers came tumbling down Sept. 11 after they were struck by two hijacked jetliners.
"Only standing in the midst of the twisted, torn and shattered rubble can one appreciate in any respect the scale, the scope, the difficulty that this act of war perpetrated on the people of America," Ashcroft said.
Echoing President Bush's address to the nation Thursday night, Mueller said authorities would "bring to justice these persons who were responsible for this unspeakable terrorism." Ashcroft also announced an additional $10 million in federal funds to cover police costs.
Despite a torrential overnight downpour, smoke curled out of the wreckage as three fires continued to burn.
The number of people missing and feared dead at the Trade Center is 6,333 a number that could fluctuate after lists compiled by the police department and foreign consulates are checked. Of the 252 bodies recovered so far, the coroner's office has identified 183.
Among the bodies recovered this week was John P. O'Neill, the FBI's top terrorist fighter until taking a job in August as head of security for the Trade Center. He was apparently killed while helping evacuate the buildings.
In an attempt to identify more victims, Police Commissioner Bernard Kerik encouraged people to submit DNA samples of their missing loved ones. So far, 2,100 people have dropped off items with DNA samples, including toothbrushes, hair brushes and razors.
There was a bit of good news: Giuliani said eight residential buildings in Battery Park City will reopen today, followed by four more next week.
America's pastime also returned on Friday night to New York as the New York Mets opened a series with rival Atlanta at a packed Shea Stadium. Before the first pitch, there were cheers and chants of "USA, USA!" for search crews and the mayor, who sat smiling in the front row near home plate.
As night fell, some fans stared out at the Trade Center smoke rising into the sky, miles away from the stadium. Many carried small American flags handed out by stadium staff.
"We really wanted to be down here tonight, with all that was going on with the tributes," said Joe Marchiony of Rochester, who came with his wife Kathy.
The city is also preparing for an interfaith prayer service Sunday that is expected to draw more than 60,000 people to Yankee Stadium.
In the ground-level lobby of the abandoned American Express building near the site, a triage center full of medical equipment sat vacant. No one has been found alive since Sept. 12.
"Right now, the chance of finding anyone alive is very, very small," Giuliani said. "The chance of recovering significant numbers of people who survived is impossible. We recognize that."
The smoldering rubble has become a macabre tourist attraction, drawing gawkers and camera-toting visitors eager for pictures of the huge hole in the downtown skyline.
"Everyone is transfixed by the horror at the scene," said Anthony Kahn, a lawyer who walked down to the site from his midtown Manhattan office. "You've got to come down here to feel this."
The crowds snapping pictures of the site offended Vrat Pechota, 42, another attorney. "They should have a little respect," he said. "If I were in a car accident, I wouldn't want people taking pictures of me."
The city's mourning continued unabated. On Friday, there were funerals for a pair of firefighters, following eight on Thursday; two more are scheduled for today. More than 300 New York firefighters are among missing.
Copyright 2017 The Associated Press. All rights reserved. This material may not be published, broadcast, rewritten or redistributed. We strive to uphold our values for every story published.