The Lawrence school district's enrollment slide continued Thursday for a second consecutive year.
The district reported a 1.1 percent drop from a year ago on the day when the state made its official enrollment count. Lawrence's tally was 10,206, a reduction of 123 students.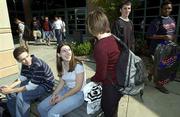 District staff had predicted a 42-student increase this year.
Supt. Randy Weseman said the numbers reflected another steep drop in elementary enrollment, especially in kindergarten and first grade. There were 50 fewer kindergartners and 56 fewer first-graders.
"It clearly indicates people are pursuing alternatives that are available in a private setting or homeschooling," Weseman said.
Last year, the district was taken by surprise when enrollment fell 1.3 percent, or 142 students. The district had predicted a 100-student increase.
An enrollment decline is important to the district because the state allocates $3,870 for every student enrolled on Sept. 20. The headcounts on that date are used by state auditors to set official enrollments for all districts in the state.
In addition to budgeting, Weseman said the enrollment report indicated the district might need to respond to the public's desire for all-day kindergarten.
Two-thirds of the district's elementary schools only have half-day kindergarten programs. Most children go to all-day preschool, and parents balk at the idea of sending them to a half-day kindergarten.
"It's something that we continue to watch and it may have implications for how we structure full-day kindergarten," Weseman said.
In the district's 19 elementary schools, enrollment this year fell to 5,284 from 5,452. That 168-student decline was greater than last year's 143-student fall.
Enrollment at the four junior high schools slipped 27 students to 2,421. Central and South lost students, but Southwest and West added students. Last year, junior high enrollment fell six students.
Enrollment at the district's high schools increased to 2,501 students, up 82 from a year ago.
"We typically get a lot of homeschoolers back when they get ready for high school," Weseman said.
Lawrence High School added 63 students to reach 1,352, while Free State High School increase nine students to 1,149.
Overall, six of the district's elementary schools experienced enrollment increases. They were Centennial, Deerfield, Hillcrest, Langston Hughes, Sunset Hill and Woodlawn. Langston Hughes' 56-student increase was the largest.
The biggest decrease was at Sunflower School, which had 45 fewer students, and East Heights School, with a 40-student drop.
Copyright 2017 The Lawrence Journal-World. All rights reserved. This material may not be published, broadcast, rewritten or redistributed. We strive to uphold our values for every story published.