Coach, get Robert Petters a varsity uniform.
Petters, who was promoted from Lawrence High's junior varsity soccer team on Wednesday, scored two goals Thursday to lead the Lions to a 2-1 victory over cross-town rival Free State on the Firebirds' field before an estimated 600 fans.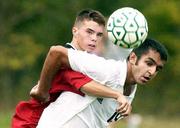 "You can tell he's from junior varsity because he's still got his JV shorts on," LHS coach Keith Nelson said of the junior exchange student from Berlin. "We saw him in tryouts and knew he was a good player. We didn't know he had the speed that he has. That's hard to show in practice. He said he didn't think he was ready for varsity and he scored seven goals in five JV games. We said, 'Robert, now it's time to step it up to varsity.'"
Petters, a forward, stepped up for LHS big time against Free State. Down 1-0, Petters scored in the 14th minute with a wide-open net. Midfielder Jamie Peterson broke through the Firebirds' blown defensive coverage before assisting Petters for the easy goal.
"That first goal was Jamie's," said Petters, who also scored a goal in his varsity debut the night before in an overtime loss to Shawnee Mission West. "I just had to put my foot on it."
Midway through the second half, Petters shook a FSHS defender deep in the box and booted in the winning goal at the 60th minute.
Peterson and Joey Kelly, both seniors, provided opportunities for Petters.
"The great thing about those two is that they're great players and unselfish," Nelson said. "They know Robert is a finisher."
The Lions (3-4) snapped a four-game losing streak with the victory over Free State (2-2).
"It's a huge win for us," Nelson said. "Confidence-wise we battled back from 2-0 deficit yesterday to tie Shawnee Mission West. We weren't at our best physically (against Free State) and for us to come out and play this well was great. This wasn't our best game. Nonetheless we rose above it."
Free State's lone goal came in the eighth minute on senior Joel Beard's stick-back. Junior Nick Giannakis attempted a shot that was deflected by LHS goalie Greg Scholtz and Beard punched the ball in.
Scholtz was credited with five saves, including two diving stops in the second half.
A key LHS defensive play came in the 72nd minute. Lion defender Andrew Bailey denied a potential Free State breakaway with a crucial tackle.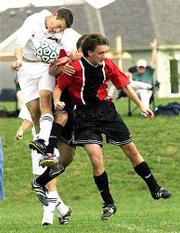 The Firebirds outshot the Lions 15-13, including 10-8 in the second half.
"I don't think we were aware of how fast Jamie Peterson was," FSHS coach Jason Pendleton said. "I'm not sure we've been exposed to that kind of soccer where they have a real fast guy running through. They certainly posed some problems for us, especially in the first half. I think the second half we seemed to make the adjustments. Minus that one play they really didn't have an opportunity to score."
Free State, which has had three games postponed, has played just four games.
"They're really disappointed," Pendleton said of his team's reaction to the loss to LHS. "Obviously, we don't like to lose. The last 25 minutes we were attacking and had plenty of opportunities. Possibly, the better team won today. They're probably more polished than we are. We've had trouble getting consistent play in and that may have hurt us a bit."
Surprisingly, the Lions didn't celebrate following the victory.
"I think it's because they're tired," Nelson said. "I have a short bench this year. I think I used 15 guys today. These guys know they are a good team and I think they expected to win and I'm proud of them for that."
Free State unveiled its new scoreboard on Thursday. The new board, though, had a flaw. The scoreboard operator was unable to update the score because of an incorrect control panel. The score showed 0-0 throughout the contest. However, the clock on the board did work.
Lawrence 2, Free State 1
Lawrence 1 12
Free State 1 01
Lawrence (3-4): Robert Petters 14th minute (Jamie Peterson assist); Petters 60th minute.
Free State (2-2): Joel Beard 8th minute.
Copyright 2018 The Lawrence Journal-World. All rights reserved. This material may not be published, broadcast, rewritten or redistributed. We strive to uphold our values for every story published.