Those Olive Garden TV commercials irritate me, with that "When you're here, you're family" nonsense. I am not family. If I was family I wouldn't have to pay. But given my unfortunate circumstance of not being related to any Italian cooks, I try to find restaurants where I can at least be an enthusiastic customer.
Lawrence, sadly, is pathetically lacking in Italian restaurants, and Bambino's Italian Cafe will not make my short list nor my long, for that matter. After my experiences here, I feel badly for bambinos who would have to routinely eat this mother's cooking. And I feel even worse for paying customers at this restaurant, which is stifled not only by marginal food, but by a cheerless atmosphere and shoddy service.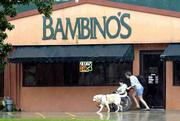 Outside, the restaurant is a low-slung box of rust-colored stucco and green awnings; the tinted windows (rather like those of Naughty and Nice, next door) are uninviting, offering no glimpse of what might be inside. But perhaps that's just as well, because the interior decor of Bambino's is no improvement. From the front counter you can peer under a small curtain to a rather depressing view of the kitchen. Further in, a few boring poster prints and some 8x10s don't conceal walls that need paint. I would have appreciated even a superficial effort to create atmosphere with some Italian opera music, a little funiculi-funicula fun; instead we were thrust into the auditory Twilight Zone of an '80s pop retrospective.
When we entered, the nearest employee didn't even glance our way while she rang up some departing customers. This attitude prevailed as we were seated perfunctorily, with barely a smile or a word, and then subjected to service that was as maddeningly slow as an AOL connection. On one occasion, two tables who came in after us were served before us; one had finished their meal and were leaving before we had even received our entr.
Pasta and panini
The food makes no recompense for the dismal decor and careless service. We started off poorly, with a basket of cold, boring bread, and neither of the appetizers was much better. Garlic cheese bread as I understand it should include garlic, which this seemed not to, and the cheese tasted processed. The ricotta and artichoke dip tasted of neither, and, although it was inoffensive enough to begin with, as the temperature dropped on this cream-based dish, the viscosity increased alarmingly, and soon it was too thick to comfortably dip. Also, the accompanying bruschetta slices were somewhat stale.
Pastas, in general, were also disappointing. For one thing, the choice of pasta noodle is limited: I asked for either penne or mostaciolli and was informed they only appear occasionally, in a special. Only one option (cavatelli) deviates from the long-noodle format. I wonder, how hard is it to have a couple of boxes of macaroni or penne on hand? Don't they know that younger bambinos do well with smaller, easily-forked noodles?
The cream pastas are weighted to alfredo and they were fairly drowning in this thick but uninspired sauce. In the pasta alla zia, for example, described as "our version of the classic chicken tetrazini," chicken, peas and mushrooms are mixed with spaghetti; it was edible, but it lacked any distinction or thought, and was something I could stir together at home should I be so inclined just as easily.
The pesto genovese was terrible. Ideally a simple, classic sauce of basil, garlic and olive oil, this tasted old: even packaged pesto from the grocery store is better. And the pasta itself was overcooked.
Slightly better was the sugo di salsiccia, a tomato sauce with Italian sausage. My companion dismissed the pasta al fratello with the comment, "There's nothing to it." I, however, found that the lighter flavor of this linguini in a "light pomidori sauce" was brought out with a bit of salt, and although it was nothing special, I preferred it to anything else I had.
The "panini" sandwiches trump the pastas in taste if not volume. The bread was toasted and tasty, and my lone complaint was the skimpy innards. The pepperoni panini, for example, had but one layer of thin-sliced rounds, and a little bit of peppers, onions and cheese. The New York style was beefed out a little more with pastrami, salami, swiss cheese and as well as lettuce and onion.
The best thing going for Bambino's is that there's a lot of food for the money: The $7 bowls of pasta are enough for even hearty appetites. But you'd best come in with that hearty appetite, because the food itself is hard-pressed to create one.
As for me, until Lawrence improves its Italian restaurant selection, I'm looking to make some good Italian friends who will take me in and treat me like family.
Copyright 2018 The Lawrence Journal-World. All rights reserved. This material may not be published, broadcast, rewritten or redistributed. We strive to uphold our values for every story published.