Orlando, Fla. — With the energy of a Mountain Dew-fueled teen zipping up and down a U-shaped halfpipe, skateboarding has entered the mainstream.
It's not just for punks anymore.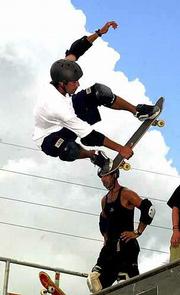 Skateparks are erected in shopping malls, skaters are targeted as a juicy demographic by advertisers, and even ESPN, the cultural touchstone for all things jock, airs skating competitions.
It was ESPN's exposure that prompted Tony Hawk the Michael Jordan of skateboarding for his talent and advertising juice to realize how much skating had changed from its days as a pastime for reckless teen-age boys.
The highlight of ESPN's 1999 X Games, the network's showcase of extreme sports, was Hawk crossing the final frontier of skating: the 900, a midair 360-degree spin done 2 1/2 times.
In the weeks afterward, Hawk said "random people" approached him to offer their congratulations for being the first to perform and complete the 900.
"I couldn't figure out how they even knew what a 900 was until I learned that it was featured on SportsCenter," he said.
Skateboarding was once the domain of punkers proud of their anti-authoritarian, property-abusing ways. Today's thrashers, though, don't seem to be bothered by society's acceptance, and the perks that come with such approval.
"Now, we're fortunate enough to get paid to do what we like," said Mike Frazier, a 29-year-old professional skater found shredding a massive halfpipe at a recent Vans Warped Tour concert in Orlando.
Moments before, Frazier wowed the crowd of teens by performing a 360 eggplant, a tricky move where he rocketed up the 20-foot-tall halfpipe, planted his hand on the platform's edge, then used it as a pivot to spin his body legs and board in the air in a tight circle before skating back down.
"I think the pros are happy to be finally making a living doing what they love," Hawk said.
At the recent Vans Warped Tour stop in Orlando, the music by bands such as 311, Jimmy Eat World and The Vandals was loud, fast and hard.
But the advertising evident at the Central Florida Fairgrounds proved corporations are aware of skaters' buying power. Major companies with booths at the concert were Target stores (the tour's main sponsor), Beck's beer, Right Guard deodorant and Sony, which beckoned skaters to kill time on PlayStation 2 console games.
"This (advertising) just goes to show how much of a spectator sport that skateboarding's become," said Michael Wood, vice president of the marketing firm Teen Research Unlimited.
Said Hawk: "There will inevitably be companies that latch on to skating's popularity for the sake of marketing, but they are quickly discredited by today's savvy kids. It's obvious when a company doesn't get it."
Hawk is a big part of that marketing, with advertisers linking his name to a variety of products, from shoes to video games to Bagel Bites snacks.
It's a savvy move by companies to grab hold of Hawk's board and join the ride. According to studies by Teen Research Unlimited, teens judge only professional basketball star Vince Carter of the Toronto Raptors ahead of Hawk in popularity.
Skateboarders are even being embraced by city officials, formerly their mortal enemies for anti-skating crackdowns. Many municipalities including Lawrence are building expansive skateparks, just as they would jogging trails or tennis courts.
The skatepark boom may have made the sport safer. Municipalities initially balked at building skateparks because they worried about high insurance premiums. Many cities now require skaters to wear helmets and pads.
Copyright 2018 The Associated Press. All rights reserved. This material may not be published, broadcast, rewritten or redistributed. We strive to uphold our values for every story published.