Islamabad, Pakistan — President Pervez Musharraf said Wednesday that his nation was facing a "very serious time" and his offer to help the United States strike at terrorist suspect Osama bin Laden was Pakistan's best option.
Wearing his military uniform, Musharraf said in a nationally televised speech that the United States had not finalized operational plans for an attack on bin Laden and the Taliban rulers in Afghanistan who shelter him.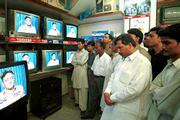 But shortly after Musharraf finished speaking, a senior U.S. defense official said in Washington that the Pentagon ordered combat aircraft to begin moving to bases in the Persian Gulf region. The deployment has been dubbed "Operation Infinite Justice."
Musharraf emphasized that Washington was not declaring war on Islam or Afghanistan.
"Nowhere have the words Islam or the Afghan nation been mentioned," in the talks between Pakistan and the United States about cooperating in their efforts to battle terrorism, Musharraf said in his native Urdu.
Musharraf's address was intended to explain his decision to help U.S. forces capture or kill bin Laden, the prime suspect in the Sept. 11 terrorist attacks on the World Trade Center and the Pentagon. He has promised to provide U.S. forces with access to his country's air space and land.
That decision has sparked anger and fear among many in Pakistan, a Muslim nation of 140 million people, where some groups strongly back bin Laden and the Taliban.
"Pakistan is passing through a very serious time. Our decision today will impact our future," said Musharraf, punctuating his speech with stories and quotes from the Quran, Islam's holy book.
To cooperate with the United States and stand together with the international community will ensure the South Asian country emerges as a "responsible and dignified Pakistan," he said.
But Musharraf said that his government had been forced to make a tough choice.
"When you are faced with two calamities and must choose one, then it is better to choose the lesser one," Musharraf said, implying that if he didn't stand with the United States, Pakistan would become isolated by the international community at a time when other countries were uniting with the United States for a war against terrorism.
President Bush said he welcomed Musharraf's statement of support and said he had taken a "bold position." Bush said the Pakistani president will work "to the extent he can" with America and its allies in retaliating against bin Laden.
Musharraf, a general who seized power in a bloodless 1999 coup, is facing an influx of refugees, heightened tensions with India, and the threats by Islamic militants in Pakistan who have demonstrated against U.S. reprisals and in support of bin Laden.
Musharraf warned neighboring India, its foe in three wars in the last 50 years, not to take advantage of the crisis that Pakistan is currently facing.
Local newspapers have reported that Islamabad is asking for a $3 billion debt to be written off by the United States in return for Pakistan's cooperation.
The U.S. targets are bin Laden, his al-Qaeda organization accused by Washington of operating terrorist camps in Afghanistan and the Taliban, Musharraf said.
"The fight is against terrorism, a battle that has the support of all Islamic countries," he added.
Copyright 2018 The Associated Press. All rights reserved. This material may not be published, broadcast, rewritten or redistributed. We strive to uphold our values for every story published.