As fall approaches and the soccer season begins, young teens are getting into the center of things as players and as the referees that supervise them.
Soccer is rapidly expanding as an American sport with professional leagues for men and women, and a two-time World Cup women's championship team. As teams and fields sprout throughout the country, so do the sport's officials and many of them are just as young as the players themselves.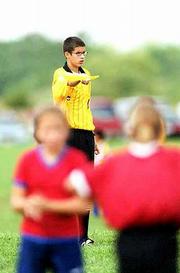 The job can be tough, but, as Lawrence teens explain, there are incentives for training and working as a sporting official, especially in soccer.
"I became interested in refereeing because I have been in the environment of soccer, because all my family plays soccer, and I've grown up playing it myself," said Lieke van de Liefvoort, a junior at Lawrence High School who has been a certified referee for more than three years. "I decided, why not earn money while being involved in soccer?"
Colin Hamel also has a history in soccer, and was looking for something other than the usual fast-food job.
"I needed a job," said Colin, an LHS junior. "I like soccer and wanted to do something related to that rather than work in a regular restaurant or something."
And, he said, the job involves "good money."
Most referees have played soccer since early childhood or have family members that play, coach or referee.
But knowing the game well isn't enough. All referees must become certified by taking weekend classes to receive their national license. They then start on the sidelines of the games in recreation leagues, watching experienced referees work in the center. They receive feedback from supervisors, coordinators and fellow referees.
They also must obtain the tools of the trade. A referee team must have a watch, whistle, penalty cards, game cards and signal flags at every game. Most referees prefer to own their own rather than risk showing up to a game without the proper equipment.
The technical side
Each game typically involves a three-person team: one center referee and two assistant referees.
The field is split diagonally with one assistant referee on each side, watching a triangular half of the field. Their job is to signal which team should get possession of the ball when it leaves the field on their sideline or goal line.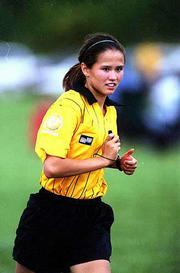 The center referee then assigns the appropriate restart: throw-in, corner kick or goal kick. The assistant referee also signals penalties for violations such as offsides or excessive foul play especially in situations where the center referee might not be able to clearly see what has happened.
For players under the age of 8, games are actually refereed by the two teams' coaches. The referees that work these games are called coordinators. They supervise two fields and serve as a reference for any questions or disputes that come up. They do not make calls or keep time. However, that doesn't mean they're not closely observing or actively involved in what's going on.
"I like seeing all the younger kids play soccer," Lieke said. "You can seriously learn from that."
A learning curve
The biggest challenges often come from off the field.
Referees say that coaches and parents can be just as disruptive as an upset player. Colin said his worst difficulties have been "a couple of times when coaches get really mad."
Angry coaches may complain about calls, confront the referees after the game or, in some cases, incite their teams to play in a reckless, dangerous manner.
Parents, while usually less confrontational than coaches, often disrupt the game from the sidelines.
"Many times parents mistake the rule, when it should be applied; they make up rules or call basketball rules," said Betsy Rowden, an LHS senior and experienced soccer player and referee. "I wish they'd be more conscious, learn more, let me call it."
Referees stress that they want everyone players, coaches and parents to enjoy themselves. However, their first job is to ensure the safety of the players on the field.
"When they lose their cool, it's always tough," Betsy said.
The benefits
But referees cite far more positive than negative experiences. Fresh air, exercise, friends and, of course, being close to the game of soccer were all mentioned as important advantages to the job.
Most referees also think that their job affects how they act when they're on the other side as players. At their own games, they play and watch the game differently.
"For one, I know exactly how referees will react what I can get away with and what I can't," Lieke said. "I've learned how to handle difficult situations calmly and make decisions quickly."
Understanding what it takes to be a referee also makes them a bit more empathetic.
"I just have a better understanding of how the referees might have made the calls that others think are bad," Colin said. "It's always the referee's point of view when he or she calls it you have to understand that the referee sees it differently."
Colin said working as a referee has also affected his time management skills he must balance soccer with homework, church, school and other activities.
The best part of being a referee goes back to the field.
"When the kids get in a good flow and love the game, and play for the sake of playing," Betsy said.
---
Rebekah Zemansky is a senior at Lawrence High School.