Chicago — After eight days of unimaginable horror in the city where they live and play, the New York Yankees found some solace by doing what they do best.
"I think everybody was ready to move on," Yankees manager Joe Torre said after New York returned to the baseball field Tuesday night and routed the Chicago White Sox 11-3 in a game filled with displays of patriotism and solidarity.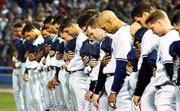 "Baseball is what we do, it's our form of entertainment. It's our form or relief," Torre said, admitting he was choked up during a pregame ceremony.
"I told the players we're not here to save civilization, we're here to do our part and maybe we can subtract from the grief."
Their city reeling from terrorist attacks, the Yankees played like the champions they are, winning easily behind the strong pitching of Orlando Hernandez and three seventh-inning homers, including a grand slam from Jorge Posada.
"It's tough to smile, but a good couple of games will put some smiles on peoples' faces," Posada said. "It was very emotional the whole game."
All through the night, the United States and New York were saluted, from the small flags handed out to fans, to signs like "Chicago Luvs N.Y.," "God bless America" and "Baseball Has Players, America Has Heroes," to a continuous flow of music over the public address system.
As firefighters and policemen ringed the infield and the teams lined up along the foul lines applauding them, Torre and White Sox manager Jerry Manuel were presented candles by officers during the pregame ceremony.
"Seeing the firemen and policemen, they are people we take for granted the all the time," Torre said. "It was very emotional. I had to come in and try to throw some water on my face."
While the national anthem was being sung, New York native and Yankees first base coach Lee Mazzilli saluted the flag.
Then it was time for baseball, for the Yankees their first game since Sept. 9 and first since the attacks two days later changed the world.
Their three-game series at Yankee Stadium with the White Sox who were staying in midtown Manhattan during the attacks was postponed.
When Ray Durham's line drive down the first-base line was ruled foul instead of fair, it set off a heated argument from White Sox coach Gary Pettis, who was ejected by first base umpire Mike Winters.
Durham struck out and then became incensed, smashing his bat and tossing his helmet in the dugout before he was also ejected. He then raced back on the field toward Winters before he was intercepted and held back by teammate Jose Valentin.
"I was just trying to stop something worse from happening," Valentin said.
"I think everybody has been under tension. It's easy to lose your composure," Torre said.
Chicago got two runs in the eighth on an RBI grounder by Tony Graffanino and run-scoring single by Joe Crede.
Twins 8, Tigers 3
Minneapolis Brad Radke took a no-hitter into the eighth inning and got 18 hits of support as the Minnesota Twins returned from an eight-day layoff with a win over Detroit.
Red Sox 7, Devil Rays 2
Boston Hideo Nomo struck out 11, and Manny Ramirez hit his 40th homer for Boston. It was just the second Red Sox win in 15 games over three weeks that saw them fall out of contention and then reminded them just how little that mattered. Trot Nixon, whose wife gave birth to their first child the afternoon of the attacks on the World Trade Center and the Pentagon, was 3-for-4. He scored Boston's first run on Ramirez's third-inning single, and scored again when Ramirez homered in a five-run sixth inning that made it 7-2.
Blue Jays 8, Orioles 5
Toronto Alex Gonzalez hit two homers, including a tiebreaking three-run shot in the eighth inning off Jorge Julio (1-1), as Toronto sent the Orioles to their ninth straight loss and 15th in 16 games.
Mariners 4, Angels 0
Seattle The Seattle Mariners, looking as sharp as they did before a one-week layoff, clinched a tie for the AL West title by beating Anaheim behind Freddy Garcia's three-hitter. The Mariners won their sixth in a row and cut their magic number to one over Oakland.
Athletics 6, Rangers 5
Arlington, Texas Mark Mulder earned his 19th victory, and the Oakland Athletics came from behind twice to beat the Texas Rangers for their ninth straight win. The A's are 43-14 since the All-Star break.
Copyright 2018 The Associated Press. All rights reserved. This material may not be published, broadcast, rewritten or redistributed. We strive to uphold our values for every story published.