Sticks and stones may make a home, but not the one Sacie Lambertson and her husband, David, are building outside Oskaloosa.
The exterior walls of the couple's new "green" house will contain foam supported by wire and rebar and covered with stucco inside and out.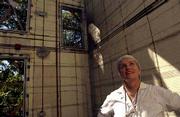 A small amount of wood will be used in the home's roof beams and its few interior walls, but 85 percent of that wood will come from trees felled on the Lambertson's own 80 acres in rural Jefferson County.
Using green building philosophies, Sacie Lambertson worked to ensure the house makes the smallest impact possible on the environment.
"As the cost of fuel goes up, even Kansans who normally shrug off such considerations are beginning to look at this subject with interest," Lambertson said.
A unique home
Lambertson's main goal is to make her house as energy-efficient as possible.
Smaller is better. Keep building size and resources used to build and operate it to a minimum.Design an energy-efficient building. Use high levels of insulation, high-performance windows and tight construction.Design buildings to use renewable energy. Incorporate passive solar heating, daylighting and natural cooling.Design water-efficient, low-maintenance landscaping. Landscape with drought-resistant native plants and perennial groundcovers.Choose low-maintenance building materials. Use building materials that require little painting, retreatment, waterproofing, etc., or whose maintenance will have minimal environmental impact.Buy building products made from recycled materials. They reduce solid waste problems, cut energy consumption in manufacturing and save on natural resource use.Look for responsible wood supplies. Use lumber from independently certified well-managed forests. Avoid lumber products from old-growth timber unless they are certified.Install high-efficiency heating and cooling equipment. It saves the building occupants money and produces less pollution.Install high-efficiency lights and appliances. Fluorescent lighting has improved in recent years and is now suitable for homes.Install water-efficient equipment. Water-conserving toilets, shower heads and faucet aerators reduce water use as well as demand on septic systems or sewage treatment plants.Source: Environmental Building News
Besides being extremely well-insulated, the house has tubing in its concrete floors that will emit radiant floor heat in the cold winter months, and it's designed to passively ventilate during hot Kansas summers.
"It has no air conditioning, which I maintain could be true for most houses in Kansas if they were sited properly and built correctly," Lambertson said.
Fluorescent lighting which burns less energy will be used to illuminate most of the house. Solar panels on the roof will harness energy to heat the couple's water.
Although it's more expensive up front, Lambertson said, green building saves vast amounts of money down the road.
"People have to sort of see a connection between being environmentally conscious and something that will be useful in their lives," Lambertson said. "You always have to look at the payback. But it's hard to take chances when you're building a house. I can understand that."
A growing trend
Half the clients Lawrence architect Steve Lane works with ask him to incorporate green building principles into his design.
"But about 100 percent of the houses I do involve those principles," he said. "If the owner doesn't request it, I talk to them about it."
Green-building considerations include anything from thinking carefully about the way you situate your home, which doesn't cost a thing, to installing solar panels that convert the sun's rays to electricity a hefty investment.
Even most traditional homes built today include some green components, said Lee Queen, vice president of Edmondson Construction and Lawrence Homebuilders Assn. member.
Most of the plywood builders use is pre-engineered and made from chips of glued-together wood from new-growth forests, he said, and carpet pad is made from recycled materials.
"A lot of us do some of this stuff kind of by default and not necessarily because we're real ecology-minded," Queen said.
But Lambertson has put careful thought into her house, even down to situating it toward the south so it gets a lot of sun and the cool end of a breeze that blows up the hill from a pond below.
The house's only shortcoming is its size about 2,400 square feet.
"It's a little bit against our basic philosophy, I'll have to admit that," Lambertson said. "The smaller footprint you can make on the earth, the better."
Copyright 2018 The Lawrence Journal-World. All rights reserved. This material may not be published, broadcast, rewritten or redistributed. We strive to uphold our values for every story published.