TRENTON, N.J. — At Cooper Hospital in Camden, patients don't have to worry about a misread doctor's chicken scratch giving them the wrong drug or dose. Prescriptions are typed into a computer.
At the nation's veterans hospitals, bar code scanners identify the patient's medicine and ensure that it won't cause any harm.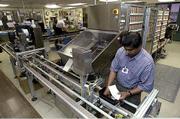 And at Jersey Shore Medical Center in Neptune, a pharmacy robot reads electronic medical charts, pulls bar-coded medicine from stock shelves, makes labels and sorts them into labeled bins, eliminating human error.
Under the microscope after a damning 1999 report about errors killing thousands of patients each year, hospitals across America are testing a wide range of solutions. They are trying everything from better training and new medication-handling procedures to installing sophisticated, multimillion-dollar technology meant to catch mistakes that harried doctors and nurses sometimes miss.
"I think all hospitals are trying to do something to make the use of medication safer," although many still have not laid out the money for pricey, high-tech solutions, said Dr. David Classen, a consultant and hospital internist.
The most complex systems can cost up to $5 million, plus millions more for customizing, staff training and maintenance, said Classen, who works for First Consulting Group of Long Beach, Calif., which helps hospitals choose computerized systems.
Most hospitals making big investments today are focusing on computerized physician order entry systems, which can eliminate common causes of confusion: illegible handwriting, drugs with similar names, misinterpreted abbreviations and decimal points that aren't noticed, resulting in patients getting an excessive dose.
He estimates that up to 10 percent of U.S. hospitals now have such systems.
Demanding action
Cooper Hospital-University Medical Center in Camden went to a computerized order entry system three years ago, and within two weeks made every doctor, intern and resident stop writing paper orders.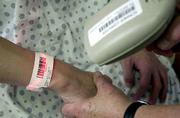 That has eliminated all errors due to illegibility, said Dr. Simon Simaha, a practicing physician who is vice president for information technology.
Bar-coding systems use handheld scanners waved over bar codes on the nurse's ID badge, patient's wristband and medication packet to link information from each with a computer database. That can catch everything from worrisome side effects and look-alike drug names to lab tests indicating the dosage should be changed.
Veterans Affairs medical centers across the country have implemented them. The VA hospitals in East Orange and Lyons, N.J., upgraded theirs with automated, continuous backup of all information onto personal computers, so if the computer system crashes, the medical staff has current information.
Robotic systems in pharmacies use conveyor belts, bar-coded stock in special cabinets and sophisticated software to pull medication doses based on orders a doctor or pharmacist entered into a computer. The robots sort drugs into bins for each patient before they are checked by a human pharmacist.
Besides reducing human errors, the systems give pharmacists more time to advise doctors on medication choices.
After the 1999 Institute of Medicine report on hospital errors, a number of organizations demanded action by the hospitals. In addition to the loss of life, the mistakes added an estimated $2 billion to the nation's health care bill, the institute report said. A new study this year challenged the institute's numbers.
A culture change
But hospitals will continue to have critics as long as any mistakes are made. As promising as the new technologies are, cruder versions have been available for about two decades, and could have been upgraded over time as new safety features became available, said Dr. Sidney Wolfe, director of Public Citizen Health Research Group in Washington.
"It's inexcusable that these things weren't put in immediately," Wolfe said. "It's killing people."
Pressure to make improvements has come from the government, medical groups, insurers, major employers, patient advocates and even the hospital-supported agency that accredits hospitals.
All those forces have helped change the culture at many hospitals, said Allen Vaida, a pharmacist and executive director of the nonprofit Institute for Safe Medication Practices.
Previously, executives often kept errors quiet for fear of lawsuits or simply blamed the nurse, pharmacist or doctor involved.
Copyright 2018 The Associated Press. All rights reserved. This material may not be published, broadcast, rewritten or redistributed. We strive to uphold our values for every story published.