In the heart of Manhattan, in Washington's suburbs, in saddened towns elsewhere, mourners grieved and reminisced Saturday at the first wave of services for the terror attacks' victims a fearless priest, a feisty TV commentator, a mother and her 4-year-old daughter.
A Supreme Court justice spoke at one service, a U.S. senator and former president attended another. Relatives, friends, civic leaders joined in wistful tributes that will be echoed over and over, at hundreds of churches across the nation, in the coming days, weeks and perhaps months.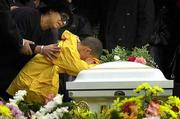 In New York City, at a Roman Catholic church across from a grief-stricken firehouse, bagpipers played the national anthem after the service for the Rev. Mychal Judge, chaplain of the city's Fire Department. Sen. Hillary Rodham Clinton, former President Clinton and their daughter, Chelsea, were among the mourners.
Supreme Court Justice Clarence Thomas delivered a eulogy in Arlington, Va., for Barbara Olson, a lawyer, an unabashedly conservative TV commentator and the wife of U.S. Solicitor General Theodore Olson. She was aboard the jetliner that crashed Tuesday into the Pentagon.
"Barbara strode boldly through life, full of cheer and verve, shying from no challenge or obstacle," Thomas said. "She was irrepressible in the fullest sense ... ignoring all torpedoes and charging full speed ahead."
"This is indeed a sad occasion," the justice added. "One to be repeated thousands of times by our fellow citizens across the country."
Congressmen, federal judges and others from Washington's political elite were among about 1,500 people gathered for the memorial service at Arlington's St. Thomas Moore Cathedral.
Judge, 68, died Tuesday as he was administering last rites to a firefighter mortally injured in the attack on the World Trade Center. The Franciscan priest had removed his fire hat to pray when he was hit by falling debris.
"He was a saint, a wonderful man," said Mayor Rudolph Giuliani.
The funeral Mass for Judge took place at St. Francis of Assisi Church, across from the firehouse of Engine Co. 1/Ladder Co. 24, which lost seven firefighters in the disaster.
Visiting the firehouse after the service, Bill Clinton said Judge's vocation was "a rebuke to the act of hatred" that killed so many Americans.
"So all of us who were here this morning feel a special loss," Clinton said. "We should live his life as an example of what has to prevail."
On any other day, a firefighter killed in the line of duty would draw hundreds of colleagues in dress blue uniforms and white gloves. But as a testament to the round-the-clock work proceeding in the disaster zone, the firefighters attending Judge's service numbered perhaps 200.
The Fire Department's losses, estimated at 300, included many of its top leaders. Funeral services were held Saturday for William Feehan, the department's first deputy commissioner, and chief of department Peter Ganci.
In California, family and friends held memorials for two men believed to have helped thwart hijackers aboard United Flight 93, the plane that crashed in Pennsylvania before reaching a target. Both men had called relatives to tell them of the danger, and to say goodbye.
In Pleasanton, Calif., nearly 2,000 mourners remembered Thomas Burnett Jr., 38, an executive at a medical device company. In San Francisco, mourners gathered for Mark Bingham, 31, who owned a public relations firm and played on the San Francisco Fog, a gay men's rugby team.
Two services were held in Connecticut towns both involving parents and children killed together when United Flight 175 smashed into the Trade Center.
In East Lyme, Conn., mourners grieved for Ruth McCourt, 45 and her daughter, Juliana Valentine McCourt, 4. A service was held in Easton, Conn., for Peter Hanson, 32, his wife, Susan, 35, and their 3-year-old daughter, Christine.
Hanson had called his parents moments before the crash to say a flight attendant on board had been stabbed.
In Batesville, Ark., a service was held for Sara Low, a flight attendant aboard American Flight 11, which also struck the World Trade Center.
An overflow crowd packed a Landover, Md., church at a service for James Debeuneure, a teacher at Ketcham Elementary in Washington. He was one of three teachers and three students heading to California on a field trip when their flight from Washington-Dulles was hijacked and crashed into the Pentagon.
Copyright 2018 The Associated Press. All rights reserved. This material may not be published, broadcast, rewritten or redistributed. We strive to uphold our values for every story published.