The autumn, in a strange sort of way, makes Joan Stone hyperalert.
She walks through leaves, with head downcast, looking for particular tints of brown, green and red the subtle colors found in her late husband's eyes, the colors of Italy where she and Harris Stone made a lifetime of memories.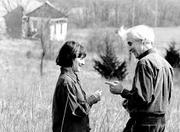 She remembers her husband's promise: to return to this world as a leaf.
"So I drive and walk and dance alone/searching the leaves/and finding the colors of your eyes and memories," she writes to her beloved in a poem.
Joan, a Kansas University dance professor, lost Harris on June 14, 1995. He was diagnosed in March of that year with pancreatic cancer.
"In the summer of 1994, he was tired in Italy, and he was unusually fatigued in the fall," Joan says, recalling what might have been the first hint that her husband, a KU architecture professor, was ill. "Then in the winter he began having stomach troubles, and then we knew something was wrong."
On the afternoon of his death, Harris insisted that he be positioned so he could look out the western windows of their home. As the sun set, Harris' breath left his body. He was 61.
"You took your leave/with reluctance and grace/and a promise to return as a leaf," Joan writes in her poem.
Joan, of course, was devastated by Harris' death they had been together 32 years and were inseparable. To get through the grief, she turned to what she could most rely on the arts.
"In this time of terrible crisis, it is the dance, the art that has kept me going," she said. "In a moment of crisis, the arts gives us tremendous strength."
At the time of his death, Harris, known for his work in restoring the Barber School near Clinton Lake, was working on a book, "Dispersed City of the Plains." After his death, Joan took over the task of finishing the handwritten text, using her husband's pens.
Writing on the pages once handled by her husband brought some comfort and another round of mourning when it was finally completed.
"I felt like my connection with him was broken again," she said.
A couple of years after Harris' death, Joan began choreographing a work that would eventually help quiet her grief. "The Space Between" evolved into a collaboration with Nebraska fiber artist Wendy Weiss, whose brother died of AIDS a few years earlier. Joan's movements were fashioned after classical mourning gestures; Weiss' fiber creations symbolized tears.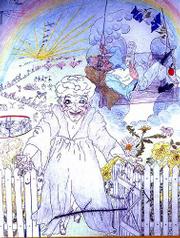 "I would do a few movements and have to lie on the floor, then I'd do that again. I worked that way for two months," Joan said. "After Harris' death, I felt like I was tumbling in space. I was wobbly. Making the dance was partly getting my feet back on the ground."
While she is a public dancer, Joan is a private poet. She has spent hours putting her feelings on paper, and rarely shares her poems with others.
Sharing the words perhaps feels like breaking another connection with Harris, crossing the boundary that makes a couple's intimacy sacred.
"I cross the threshold you crossed/walk along the walls where you worked/look out the windows as you would have looked/touch the stones that you touched/dance in your footsteps around the floor."
A consoling tale
The arts whether it be a painting, musical composition, play or dance can help explore end-of-life issues. They can become a tool to encourage communication about death, dying, loss and grief and the salve to heal wounded souls.
KU graduate student Kirby Fields doesn't know what sparked the idea for his one-act play, "Mourning Glorie," but he had been kicking it around in his head for seven to eight years before starting his first draft.
The play centers on a man who attends funerals of people he doesn't know to offer emotional support to mourners.
"The (main character) has found he's good at compassion," Fields said.
"Mourning Glorie" caught the attention of Paul Lim, KU English professor and founder of English Alternative Theatre. EAT has collaborated with Card Table Theatre to stage the play Oct. 12-14 at the Lawrence Arts Center.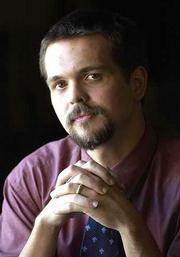 "If it's a play about death, then its emphasis is on those who remain behind and to console those who are still here," Fields said.
Fields said he has been on hand at rehearsals, and after one recent run-through some of the cast and crew spent about 20 minutes telling stories about people they knew who had died.
At a time of loss, Fields said, storytelling plays an important role.
"I think the arts are often narrative, and drama and fiction are by necessity narrative," he said. "Through the telling of stories, we can keep the people (who died) alive."
Reading between the lines
Artist Elizabeth "Grandma" Layton used colored pencils to tame her restless mind and emotions, and then make others examine how they feel about aging, death and a number of other social concerns.
Layton, who died at age 83 in 1993, left the bulk of her drawings to the Lawrence Arts Center. Ann Evans, director of the center, knew Layton well. Each spring for more than a dozen years the elderly artist would present Evans with a drawing, each containing daffodils or other blooming flowers.
In a way, Evans said, the flowers represented Layton's use of artistic expression to break free of her own mental illness.
Layton began drawing at age 68 as a way to heal from years of depression, shock treatments and medications. At that time, she was reeling from her son's death from alcoholism.
"After the son died, she was so depressed," Evans said. "Her sister (who was an oil painter) told her she could get worse and commit suicide, or she could take a drawing class."
Layton opted to take a contour drawing class taught by Pal Wright at Ottawa University. Evans said the first couple of weeks Layton drew nonstop, as if she were purging the demons from her soul. Each drawing contained Layton's image; each was narrative.
Take "Intensive Care Room," which shows her son dying in a hospital.
"This is the room where my son died. They had all these tubes you know, terrible," Layton wrote about the work. "There was always blood coming down. I couldn't draw the face, so I put the pillow there. They gave him four gallons of blood. I had always given blood and I couldn't wait till I could go again and give for somebody else. They wouldn't take me because I was taking a medicine for high blood pressure. I felt so helpless."
"Pushing Up the Daisies" shows a stretched-out Layton, with darker-than-usual skin and flowers clutched in her hands.
"This is my grave," she wrote. "It doesn't make any difference after you're dead what color your skin is so I drew my skin black. People of other colored skin have the same feelings. I think we all have the same feelings. This is my gravestone. Some child has pulled some daisies and laid them there on the grave. See, she's winking. She knows what's after this world. It's a hopeful picture."
"The Magic Gate," which is owned by Kansas University Medical Center, shows Layton's take on life after death. A happy-looking Layton gets her leg snagged by a thorn as she passes through the gate.
"She is almost through the magic gate to the cosmos. The gate opening up broke a thorny branch off the rosebush the sting of dying. Behind her are ties to the earth loved ones, wonderful worldly things, good and bad her life. We can't see yet what she sees, but the look of her face is joyous."
Don Lambert, a Layton expert who is in Paris where an exhibit of her drawing are being displayed, said while the drawings may address tough issues such as death and dying they never express a sense of hopelessness.
"Apparent in each of the drawings, even those most devastating, was a message of hope," he wrote as part of the introductory remarks in the book "The Life and Art of Elizabeth 'Grandma' Layton." "There were rainbows, hands reaching out, eyes pleading for understanding, and eyes indicating acceptance."
Next week: The issues of widowhood.
Copyright 2018 The Lawrence Journal-World. All rights reserved. This material may not be published, broadcast, rewritten or redistributed. We strive to uphold our values for every story published.