Saturday night at Kansas City's Ameristar Casino, Haggard and his band The Strangers performed before an adoring crowd. If you accept the notion that every genre of music capable of producing not only legends, but great artists, then it's impossible not to recognize that Merle Haggard exists as one of the form's most gifted examples.
"The Hag" has always been a performer whose performances are shaped by his moods. Back in his drinking days he was always a possible no-show, and even today a Haggard concert could be from anywhere from 30 minutes to two hours long depending on the humor he's in. Saturday night Haggard was in good spirits and fine voice.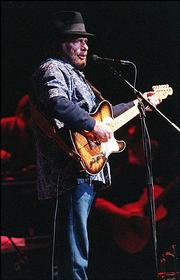 Appearing onstage for only the second time since the horrific events of September 11th, Haggard chose to address the crisis through symbolism, and most appropriately through song, rather than speak of them directly.
Opening with one of his best songs, "Silver Wings" became a subtle reference to those that boarded the doomed flights. Haggard continued with "Turn Me Loose," "Twinkle Twinkle Lucky Star," "The Bottle Let Me Down," and "I Think I'll Just Stay Here and Drink."
Haggard then sang the lovely title song from his recent release "If I Could Only Fly." The CD, released on the punk rock label Anti, the Hag, the only California-born member of the Country Music Hall of Fame, expressed perverse delight in once again operating from outside of the Nashville mainstream..
Hag and his band The Strangers perform in street clothes and enjoy a relaxed interaction onstage. Solos are spontaneous and Haggard gives them to his sidemen with a not of the head or a gesture.
After performing "That's The Way Love Goes," the show took a decidedly giddy turn with songs like "Rainbow Stew" and "Motorcycle Cowboy." The touching "Tulare Dust" led into Haggard's classic "Mama Tried."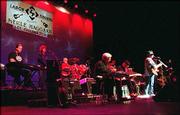 Following introductions of "the only beer joint band left in America," Haggard turned to patriotic themes but softened the blow of the bittersweet "Are The Good Times Really Over" by keeping it short and injecting some humor. The following number, "The Fighting Side Of Me" ended with hoots and a "U.S.A." chant by the audience.
After performing Lefty Frizzell's "If You've Got The Money Honey, I've Got The Time," Haggard finished a fine performance with "Take Me Back To Tulsa," "Okie From Muskogee" and "Today I Started Loving You Again."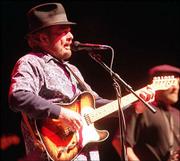 Copyright 2018 The Lawrence Journal-World. All rights reserved. This material may not be published, broadcast, rewritten or redistributed. We strive to uphold our values for every story published.