New York — Wall Street threw the "ON" switch Saturday for the first time since Tuesday's terrorist attacks, testing the millions of phone and computer lines that connect the New York Stock Exchange, Nasdaq and the rest of the financial district.
"Systems checked out fine," a NYSE computer technician said, and everyone was "optimistic" Wall Street would return to business Monday.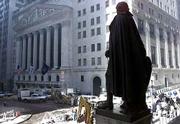 A few dozen people worked on the floor of the NYSE Saturday, a stark contrast to the more than 1,300 that normally flood the exchange's heart on any given business day.
Exchange executives said communications and computer systems inside the NYSE headquarters at the corner of Wall and Broad streets, only steps from ground zero, weren't damaged. Nor were those at the Nasdaq, based in Times Square.
But phone and computer links with brokerages and businesses across Manhattan were affected.
Phone company workers have been reconnecting brokerages and other firms with the exchanges, rerouting phone service from destroyed buildings to new, temporary offices elsewhere in the city, New Jersey and Connecticut.
Verizon crews were racing to access underground cables. Many manholes in the area were still covered with debris. Verizon said the switching station at Broad Street that supplies about 80 percent of communications cables to the financial district was unaffected by the towers' collapse.
But it lost 20 percent of capacity at its severely damaged West Street building.
"We have steel beams coming through the basement," said Verizon Vice Chairman Lawrence Babbio.
AT&T; also said it hasn't been able to restore complete data and phone services to the financial district.
Many big financial companies said they were ready to resume business Monday. While paper records were destroyed, most if not all computer information has been retrieved, having been stored in numerous locations, company officials said.
The Bank of New York, which oversees almost $7 trillion in securities, said "virtually all" of its systems were up and running. It also moved data stored at its key computer post at 110 Barclay Street, which has been inaccessible since the attack, to another location, spokesman Robert Grieves said.
Other financial companies once housed in the World Trade Center or in nearby buildings went back to work Saturday in alternative locations.
Cantor Fitzgerald, one of the biggest Treasury bond dealers with almost 700 of its people among the missing has begun work from its Darien, Conn., office.
As business across the financial district resumes Monday, security at the exchanges will be tighter than ever. NYSE chief Dick Grasso said employees will need several sets of ID to get into the building.
However, there aren't any plans to close the visitor's gallery at the exchange, one of New York's premiere tourist attractions.
Copyright 2018 The Lawrence Journal-World. All rights reserved. This material may not be published, broadcast, rewritten or redistributed. We strive to uphold our values for every story published.