The walls of the Lawrence Arts Center's gallery are covered with traditional and contemporary images of American Indian culture.
Women in tribal dress gather in one print. Buffaloes roam on another. Portraits of contemporary Indian figures, in blue jeans and rolled-sleeve shirts, hang across the room from an Andy Warhol-ish image of an Indian in cowboy garb.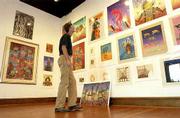 The massive show and sale is the result of the longtime relationship the arts center has developed with Rick Ximenes, owner of El Cerro Art fine art print shop, about 30 miles south of Albuquerque, N.M.
"There's about 200 prints. We don't even have room for everything," said Rick Mitchell, gallery director at the arts center. "We're treating the show like a sale. People can come in, buy them and take them home, and we'll (fill the space) with another print."
The show and sale have a number of lithographs, monoprints and etchings by American Indian artists working at El Cerro Art. Included are Tony Abeyta, Anthony Chee Emerson, Dan Lomahaftewa, Joe Maktima, Raymond Nordwall, Amado Pena, Ed Singer, Juane Quick-to-See Smith, Carm Little Turtle, Dewayne Mathews and Helen Hardin.
While the show contains mostly traditional and contemporary images, some abstract works are included.
"The prints range in price, from $25 to a framed Tony Abeta for $2,500," he said. "Our goal is to have something here for every interest and price range."
The arts center keeps 25 percent commission on each sale; the rest goes to El Cerro Art.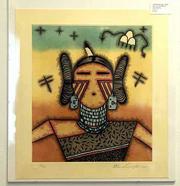 Mitchell said arts center staff came to know Ximenes through Mathews, an artist-in-residence at the arts center several years ago during the annual Lawrence Indian Arts Show. Ximenes, who is not American Indian, helped Mathews give monoprint demonstrations at the arts center, several public schools and Kansas University.
"He (Ximenes) is one of the top technical printmakers in the United States," Mitchell said.
Ximenes recently established LookClickPrint Inc., a computer-based service that allows museums to market custom, high-quality reproductions of images in their collections directly to individuals and businesses worldwide.
The company sets up kiosks in museums or other venues, where consumers can search and select an image from a database, choose a desired size and specify whether they want paper or canvas. Consumers can order the image and pay with a credit card, check or cash. The print is shipped to the consumer's home or business.
For more information about LookClickPrint, call (505) 865-5602 or e-mail info@lookclickprintcom.
Copyright 2018 The Lawrence Journal-World. All rights reserved. This material may not be published, broadcast, rewritten or redistributed. We strive to uphold our values for every story published.