A perennial that has been cherished by gardeners throughout the nation for generations creates a spectacular floral display in the flower bed.
Large blooms, many of them fragrant, and attractive deeply lobed foliage make a bold and beautiful garden statement. Proper planting and cultivation are essential to coax the best performance. And now is the time to plant this beloved perennial the peony.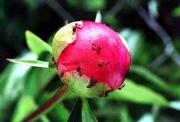 Two types of peonies the herbaceous perennial that reaches a height and width of about 3 feet, and the deciduous shrub (or tree) peony, which grows up to 6 feet are great choices for the Midwest home landscape. Most are hardy from zones 3 to 8 (the Lawrence area is in Zone 5).
Both peony types produce cup- or bowl-shaped flowers. A single flower blooms per stem, although some may have several buds along the stem.
Flower sizes may span up to 5 inches. Clipping off side buds early in the spring when they are pea-sized redirects the plant's energy to the end of the stem where even larger blooms will be produced. Sometimes, a metal ring may be used to support the stems so they don't bend under the blooms' weight.
Each flower has five or more large outer petals with stamens at the center. Flower types determine the classification of peonies. Single, semidouble, double, anemone and Japanese flower forms of the peony bloom in late spring for one to two weeks. The blooms present wonderful bouquets and keep well as cut flowers.
Some people claim that the peony has one of the purest whites in flower color. Other peony pigments span the colors of the rainbow, except for blue. Their foliage is mid- to dark green in color.
Taking root in fall
Late September is a perfect time for planting peonies. Those planted in the fall are more likely to bloom the following season. Peonies planted in the spring often wait a year or two before producing blooms.
Fall-planted peonies are generally bare root. Plant them as soon as possible after purchase to avoid dehydration.
First, find a suitable location. Peonies prefer sun, although they tolerate light shade. The soil should be fertile, rich in humus and well-drained.
Peonies can be placed in cottage-style gardens or singly as a specimen plant. They make a wonderful hedge when planted in a row.
Dig a hole sufficient to accommodate the roots and add organic matter if necessary. Place herbaceous peonies in the ground so that the small red buds or "eyes" are no more the 2 inches below the surface. These buds are the growing points. Planted too deeply, peonies will not produce flowers. Planted too shallowly, these tender growing tips may dry out.
Tree peonies are planted so the graft union is 5 inches or 6 inches below ground level. Backfill the hole and water well. Loosely spread a 1-inch layer of mulch around the plant, especially in our area where we do not generally have abundant snow cover.
After the initial planting, peonies are fairly easy to maintain. Fertilize in the spring, enjoy their blooms in May and cut the foliage to the ground in fall.
Winter is important for peonies. They need at least 30 days of near-freezing nighttime temperatures in order to produce flowers the following spring.
Breaking up a crowd
Peonies can be left undisturbed for dozens of years. In fact, they prefer a permanent home and do not enjoy being moved from one location to another.
However, flower production diminishes when the plant becomes overcrowded. Dividing it rejuvenates the plant and encourages the return of blooms.
September is the best time to divide overcrowded peonies. Carefully lift the plant and wash away the soil from its roots, exposing the eyes.
Cut through the roots with a sharp clean knife, leaving three to five buds per section. Then, replant as soon as possible in a hole that has been prepared with organic matter. Space the new plants at least 3 feet apart to give them plenty of growing room and reduce the need to divide for a long time.
Peonies are long-lived and much loved. Frequently, they are handed down from one generation to the next.
Gardeners often cultivate peonies that once had grown in a grandparent's garden, becoming some of their most treasured plants. Without a doubt, these same peonies eventually will find their way into the gardens of future generations.
---
Carol Boncella is education coordinator at Lawrence Memorial Hospital and garden writer for the Journal-World.
Copyright 2018 The Lawrence Journal-World. All rights reserved. This material may not be published, broadcast, rewritten or redistributed. We strive to uphold our values for every story published.