GAINESVILLE, FLA. — At the Purple Porpoise, a popular restaurant across the street from The Swamp, two guys drank beer at the bar while a Florida student, Kathleen Powell, sat a few seats down with her head buried in a book.
Powell was the waitress.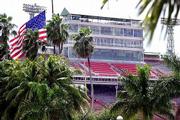 "Normally on a football Saturday, you can't get a table in here," she said, shrugging as she looked at 35 wooden tables and booths, all empty. "Today, it's different."
Such was life Saturday in Gainesville, where one of the weekend's biggest games No. 2 Florida vs. No. 8 Tennessee was supposed to take place. Gainesville wasn't the only college-football ghost town.
From Norman to Madison, and from Albuquerque to Tallahassee, stadiums were dark as all major colleges postponed or canceled games in the wake of Tuesday's terrorist tragedies in New York and Washington.
"It's real eerie around here," said Don Fitch of Ann Arbor, Mich., where the No. 20 Michigan Wolverines were supposed to play Western Michigan.
Plans all around the country changed, as the absence of college football a tradition-filled rite of passage on any autumn Saturday left a void in America's schedule.
At Ohio State, 15,000 fans about 85,000 fewer than normal filed into Ohio Stadium to pay tribute to the country's dead and missing. At a tribute in Clemson, S.C., it was flag-carrying ROTC cadets who made the traditional run down the hill at Memorial Stadium, not football players. In Champaign, Ill., about 7,000 fans went to a ceremony that took the place of the Louisville-Illinois game.
"I cried, because for the first time I understood what it is to be an American," Illinois senior Eamon Kelly said.
Where there weren't ceremonies to attend, football fans were finding other ways to fill the free time.
Florida students Cody Montgomery, Ashley Herrington and Caroline Bokor had planned to tailgate, then walk across the street to the game.
"But I guess we'll go get lunch, then maybe go to the beach," Montgomery said.
Chip Roberts popped into a store near a desolate Tiger Stadium in Baton Rouge, La., to buy a six pack of beer.
"Normally, I'd be getting things ready so we could tailgate," Roberts said. "Instead, my wife's got me doing all the stuff around the house I've been putting off. She's working me to death."
Among those without many choices were Tennessee freshman Keith Brakebill. At 3:30 p.m. sharp the time kickoff was supposed to take place Brakebill was sitting in his seat in section 42 at The Swamp, wearing an orange Volunteers jersey and cap.
A low-flying bird whizzed past, near the 30-year line. A man and woman stretched on the sidelines after running stadium steps. But no football.
"We got in the car on Thursday, and mostly listened to CDs on the way down," Brakebill said. "By the time we found out, it was too late to turn back. I figured I might as well come to the stadium, just to say I've been here."
For an actual football game, the only option in the entire state of Florida was at tiny Jacksonville University, where the Division I-AA Dolphins defeated Moorehead State 39-27.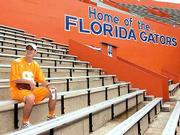 Two other Division I-AA games stayed on the schedule: Wisconsin-Eau Claire defeated Valparaiso 31-9, while Southwest Missouri State played at Southeast Missouri later Saturday.
Before the Jacksonville game, the teams and about 1,000 fans observed a moment of silence, followed by the playing of taps, the singing of "God Bless America" and the national anthem.
Many in attendance said it felt good to see a game.
"I've been cooped up for two or three days, emotions have run high," said Jack Leonard, who had planned to go Tallahassee to watch No. 6 Florida State play No. 10 Georgia Tech. "I think it's time to play the game. This will take things off the minds of a lot of people."
In Manhattan nicknamed The Little Apple No. 12 Kansas State was supposed to play Louisiana Tech.
The sidewalks were nearly empty near the stadium. Outside the Wildcat Souvenir Shop sat a big sign that screamed, "Yes, We're Open," but the doors were locked.
In Evanston, Ill., the town where Northwestern was supposed to play Navy, the parking lot across from Ryan Field was empty. A Jeep and a small sedan were going in circles around the lot, their occupants taking advantage of the open space to learn how to drive.
The sidewalks and concourses around the stadium were empty, too, except for 70-year-old Ray Zarski, who was walking his dog, Molly.
"It's very weird," said Zarski, who wore a Northwestern hat. "There's usually a lot of excitement when there's a game."
Flags flew at half-staff in front of fraternity and sorority houses near rainsoaked Memorial Stadium, where defending national champion Oklahoma was supposed to play Tulsa.
The display windows at a souvenir shop overflowed with OU hats, T-shirts, sweat shirts and other goods. Inside, owner Grover Ozmun rearranged a few shirts in his empty store.
Ozmun had mixed feelings about the decision to postpone.
"The business side of me says yes, the psyche says no, it's not time to play football," Ozmun said. "I don't think anybody wants to play football while they're looking for bodies."
At State Street Brats in Madison, Wis., manager Ross Johnson showed the movie "Patton," hoping to lure a few patrons into a restaurant that would have been overflowing had Wisconsin's game against Western Kentucky been played.
"I thought it would be inspirational," Johnson said.
The cancellations and postponements were felt in more than just the traditional football hotbeds.
This is arguably the biggest pigskin weekend of the year in Albuquerque, where New Mexico State and New Mexico were set to renew their annual rivalry Saturday.
The game may have been off, but some habits are hard to break.
Lobos fan Bill Duffey and about 30 friends gathered in the parking lot outside empty University Stadium, had a few drinks and grilled their traditional green chili hamburgers.
"We just thought it would be a good time to get friends together and put this week behind us," Duffey said.
Copyright 2018 The Associated Press. All rights reserved. This material may not be published, broadcast, rewritten or redistributed. We strive to uphold our values for every story published.