New York — As another day since the terrorist attack on the World Trade Center slid into night Saturday, the likelihood that anyone is still alive beneath the tons of rubble faded with the light.
Outside Bellevue Hospital in Manhattan, where six of the survivors are being treated, a block-long "wall of prayer" plastered with posters of those missing slowly turned into a memorial, lined with flickering white candles and bouquets of white carnations and lilies. Crowds pressed against the wall, touching faces not seen since Tuesday.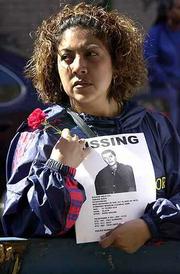 In a city that has been consumed with the search for survivors, the shift toward hard truths was palpable on Saturday. It has been more than three days since a live person was pulled from the wreckage of the twin towers. The number of missing has grown to 1,972, with 92 of the 152 bodies now identified. Twenty-four of those identified were rescue workers.
"The hours are precious now. If you don't get them out today or tomorrow, chances are going to be slim to none that anyone will be brought out alive," said Dr. Will Harvey, a radiologist, as he walked out of Bellevue.
The key factors, he said, would include water and oxygen availability. Without water, he said, a person can only live for a few days.
"Four days would be stretching it," he said.
But hope remains. Friday's downpour, which hampered rescue efforts, might also have helped anyone still alive under the tons of debris.
"Some water might have trickled down," Harvey offered.
Hoping for miracles
Other factors, though, point to a grimmer conclusion. Injuries sustained in the collapse would reduce the chances of survival, draining the body of needed energy. And the intense fires that continue to smolder might consume crucial oxygen while producing toxic carbon monoxide.
"That slowly kills you," said Cornelius T. Vulpe, a doctor at St. Vincent's Hospital in lower Manhattan. He was conducting a search of his own for a family friend.
Does he believe he'll find the missing man? The doctor shook his head. "I don't. Sorry. It's sad."
Then, softening, he gestured toward the "wall of prayer."
"Miracles do happen, but maybe, what, one or two, out of all this crowd?" He shook his head again.
Sometimes, though, the human body's resilience is surprising, said New York Police Commissioner Bernard Kerik, who's determined to keep digging.
"If you looked at other disasters or tragedies around the world, people have been pulled out these things five to six to seven days later and still alive," Kerik said.
And so, at the southern tip of Manhattan, the search continued.
"The time to give up hope is when the last bit of debris has been cleared. Until then, you don't. When the last bit of dust is swept up, then we'll know," said Bob Yarnell Jr., vice president of the American Canine Assn., which is using dogs to help the search.
Travis Hayden, 26, of Paoli, Pa., has been scouring the debris with his dog, Nala. "We know there are people out there, but she just couldn't find them," he said.
Refusing to give up
Fueled by the slimmest of chances, the work continues. "They're never going to give up hope as long as there are firefighters and police in there," said Jim Goetz, 38, a firefighter paramedic from Anne Arundel County, Md., who has been searching since Wednesday. "When it's one of their own, it's personal."
At the old Armory on Manhattan's Lower East Side, where people have gathered in search of missing loved ones, family members were struggling to remain optimistic.
"I'll never give up, period," said Enrique Vidal, whose daughter Joanna was working in a restaurant near the top of the 110-floor towers. "But if things turn for the worst, I will be satisfied to find her body just to give her the proper burial."
Copyright 2017 The Lawrence Journal-World. All rights reserved. This material may not be published, broadcast, rewritten or redistributed. We strive to uphold our values for every story published.