Clay Heine's Used Industrial Equipment is one of at least 30 home-based businesses that will have to move because Douglas County officials say it doesn't mesh well with the rural, residential area around it.
So Heine found a new location in the middle of a rural North Lawrence neighborhood.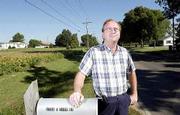 "The only reason that location will work for me is because my business doesn't need to have a lot of visibility," said Heine, who plans to move his shop to an eight-acre homesite at 1723 E. 1500 Road. "But I do need to have the zoning, and that is exactly what it has."
The property Heine found may be part of a quiet neighborhood about two dozen homes and barns along North Seventh Street as it turns into East 1500 Road in the county but the area is lining up to become another point of contention in the county's ongoing efforts to separate homes from businesses.
While county officials want to protect rural residents from facing the additional traffic, noise and other issues typically triggered by a business, planners are realizing that they have another problem on their hands.
The eight acres Heine holds is part of a larger section that may have developed as an agricultural and residential area, but the appearances hide a regulatory reality: On county zoning maps the 165-acres site is designated "I-2," an industrial zoning category heavy enough to allow large manufacturers to locate there.
A proliferation of many such uses wouldn't sit well with planners who are mapping out the area's future.
"If it turns into a de facto industrial park with a lot of small single users out there, then it would be a problem," said Bryan Dyer, long-range planner for the Lawrence-Douglas County Planning Office. "You would have all them basically using one small road to haul their equipment and they would be next to growing neighborhoods.
"If a bunch of them locate out there, it probably wouldn't be very desirable from a planning standpoint."
But from a business perspective, such land may prove to accommodate a pent-up demand.
Supplying demand
When county commissioners approved new home-based business regulations earlier this year, several businesses at least 30 currently were told that within five years they either would have to move or go through the difficult task of having their own residential property rezoned for industrial uses.
The businesses, ranging from excavation companies to plumbing firms, were deemed to be uses too intense for residential areas. But the business owners frequently told commissioners that industrial property in the city was too expensive and that they had a strong desire to have their businesses located at their home sites.
Heine thinks he may have found the perfect middle ground.
The North Lawrence property has been in his sights for several years, even before county officials this year told him that his business location at his grandfather's farm near Clinton did not meet the new home-based business regulations.
The business described by planning officials as a "one-man shop" that buys and repairs forklifts and then resells them to other retailers will be a good neighbor, he said. He's hoping to receive site plan approval within a few weeks.
Dyer, the planner, said there may be little regulators can do to stop it.
"The site plan process has pretty clear parameters, and if you meet them, you get approved," Dyer said. "Zoning is always the toughest part of the process, but that's already in place."
Whether the area actually becomes something of an industrial park remains to be seen. For one thing, any business wanting to move into the area would have to find a willing seller in the neighborhood.
"I would have bought more land if I could have," Heine said. "I've talked to most every property owner out there over the years, but none of them seem to want to sell."
Valuable land
Charles Mestagh knows how tough it is to find industrial land in the county. He owns McLouth Excavating, another example of a home-based business that will have to move under new county regulations.
Mestagh twice has tried to have his residential property near Midland Junction rezoned. Both times he has failed to win approval after neighbors presented a protest petition to commisioners.
That's led Mestagh to put his home at 2046 E. 1400 Rd. up for sale. Mestagh won't say where he plans to relocate his business, but did say that he may leave Douglas County, in part because industrial land is so hard to find.
"There's not much to be found, and what you do find is overpriced," Mestagh said. "They have put quite a burden on us. Whatever we do is going to be more expensive than what we do now."
Heine agrees that the county has a problem with industrial land that is affordable for small businesses, which makes his site all the more a find.
"You're not going to find any industrial land in this county for less than a dollar a square foot, and that adds up pretty fast for a small business," Heine said.
'Not the best of ideas'
The site where Heine wants to relocate has had industrial zoning on the map since 1966, when Douglas County first began zoning property, but no one in today's planning office is sure why this 165-acre patch was slated for industrial use. All but two home sites along East 1500 Road between the Kansas Turnpike and North 1708 Road, just outside the city limits, are zoned I-2.
Some hypothesize that county officials in the '60s thought sand pits in the area would be an industrial magnet, while others guess that farms in the area were so large that they might benefit from industrial zoning.
But in 2001, planners are trying to encourage people to consider embracing a change.
"With as much residential growth as we have seen in Lawrence, I'd have to say that it wouldn't be our ideal industrial area," said Sheila Stogsdill, assistant planning director.
Planners currently are working on a North of North Street Plan, which includes this area and indicates that the property should develop with residential uses in the coming years.
"It's something that we're trying to tell the public is not the best of ideas," Dyer said.
Increasing options
County officials have said that they intend help new industrial areas develop in the county, especially since they will be forcing some home-based businesses to move.
But finding suitable areas has been a slow process, said Keith Dabney, the county's director of zoning and codes. Home-based businesses aren't stepping forward to take part in a mandated registration process.
"Really we can't have much of a search for new land going on until we have a better idea of how many home-based businesses are out there," he said.
Dabney said that only 54 home-based businesses had registered. County officials long have suspected that there are several hundred such businesses in the county. The registration deadline is Dec. 31.
Not all home-based businesses will be forced to relocate under the county's new regulations.
But large businesses that do not register before the deadline may be forced to relocate before the end of the county's five-year grace period.
Copyright 2018 The Lawrence Journal-World. All rights reserved. This material may not be published, broadcast, rewritten or redistributed. We strive to uphold our values for every story published.