Miami — Some travelers get to piddle vast sums in pursuit of the high life. Some get panicky and race to see the world at midlife. At the bottom of the great travel food chain are gadabouts, such as Mike Ramirez, who have time but no means, who want it bad enough to travel like a lowlife.
For the last eight years, Ramirez, 33, has been living his life as an international man of poverty, backpacking through roughly 100 countries, touching all seven continents and numerous pipsqueak territories.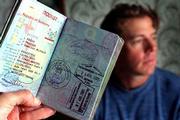 He has been bungee jumping in Zimbabwe. Hang-gliding in New Zealand. Kickboxing in Thailand. Cuddling baby elephant seals in Antarctica. Seeing Mother Teresa in Calcutta, Billy Idol in Budapest and Steve Irwin, the Crocodile Hunter, on Komodo Island. Eating chicken Caesar salad in Fairbanks, Alaska, at the world's northernmost Denny's.
Basically he's been drinking life straight from the hydrant. And doing it on the wages of a movie extra/waiter/tennis instructor, pinching his pennies and pesos and rupees and cruzados and all the rest. Even with all his extracurricular skiing and scuba diving and rafting, Ramirez spends only about $5,000 for a typical five-month, four-continent trip, and half of that cost is airfare.
His zeal is born from sheer wanderlust. Travel revealed new places, people and ideas, he says. It made him more appreciative of home.
But mostly he just got hooked.
'It became a passion'
"Traveling's an addiction," Ramirez says in the North Miami Beach apartment where he pays $200 a month for domain over the living room. "That's what happened: I got addicted to it. It became a passion, and I just couldn't stop until I completed my goal, which was 100 countries."
A mere glance around the apartment reveals that Ramirez has been extravagant in his experiences only. He beds on a flimsy foam mattress on the floor next to little tables where knickknacks jostle with toiletries for space. He stores hundreds of travel snapshots in a Dell computer box that sits on the floor. On the walls are poster-sized blowups of snapshots, one Ramirez took of a gorilla, one of him frolicking with baby lions.
The most admired wall decor is a simple world map. Ramirez, a speedy talker with a memory like a Rolodex, points to places he visited in Brazil, and rat-a-tat-tat, traces the names of 18 cities along the coast in about seven seconds. Several aren't even listed there, because, as Ramirez complains constantly, "this is not a detailed map."
Ramirez submitted himself to the Guinness Book of World Records as the person most-traveled by age 32.
But even his gaudy resume falls short of consideration. Guinness recognizes about 300 countries and territories, and some fanatics have reached all but a few of those, at a total expense surpassing $1 million. At least one teen-ager has surpassed 160 countries.
Nonetheless, Ramirez is, quite unofficially, the most-traveled backpacker known to the offices of Lonely Planet, publisher of the guidebooks Ramirez dragged to every cranny of the globe. Told of Ramirez's exploits, Lonely Planet travel editor Don George laughs, dubbing him "a wonder," and sympathizes with his craving for travel.
"It's the constant rush of new knowledge and new experiences," George explains, adding that 60 or 70 countries is the normal upper limit for rabid travelers.
"In one way, it's kind of an escape, you're not saddled with responsibilities. But on the other hand, it's the deliciousness of always learning stuff. As drugs go, it's a pretty benign drug."
The bug bit
Born in New York and raised in Puerto Rico, Ramirez had been no further abroad than the Bahamas until July 1993, when he traveled with a friend to visit her family in Portugal. He found that he had a few extra days, and wound up backpacking into Spain and Morocco, then winding his way to the French Riviera. That's when the bug bit.
He returned to Miami for only a month before jetting back to Europe, getting a Europass and trekking through 17 more countries. This yo-yo routine back and forth from home continued until this year. By his 33rd birthday in May, he'd taken 11 intercontinental trips, through every time zone, stopping at an astonishing 52 ski resorts.
There was an African safari, a bus trip through Central and South America, two tours through Southeast Asia and Australia, countless miles logged on foot, in congested trains, in the backs of trucks, on lousy planes. He estimates that his total of 36 months abroad over eight years cost less than $60,000.
Ramirez is struck by how many people tell him that they'd love to travel but can't afford to. Even more confounding are those who say they have no desire to travel, that they don't need to see what else is out there.
"People are always concentrating on making money," he says. "They just focus on work, work, work.
"When you're in Miami, OK, you know what's going to happen: You go to the gym, you go do this, you go to work, you go to whatever, you get stuck in traffic, whatever, the same old crap."
But when you're traveling, he says, "every day you have no idea it's the biggest adventure."
Cheaping out
The psyche must steel for life in squalor. The body must withstand dehydration and constant, emaciating hunger. But Ramirez insists anyone fit enough can bum around the world. Here's how he supported his habit:
l Eating cheap. Ramirez sustains himself with pasta, and doesn't splurge on restaurant food. This can be taken to extremes, however. "In India, you go to a decent restaurant, you get a nice meal for $3," he says. "You eat on the street, you might get sick for 30 cents."
l Sleeping cheap. Hotels are out, hostels are in. In Indonesia, Ramirez once got quarters for mere quarters, splitting a 50-cent room. Perhaps the biggest coup, though, was staying for $13 a night at a hostel in Tokyo, one of the world's most expensive cities. He's not shy about camping in airports.
l Talking cheap. He asked fellow travelers where to eat, where to stay. The $13 Tokyo room was suggested by an Israeli girl, whom Ramirez met and subsequently charmed with some scant Hebrew he picked up in Europe from fellow travelers.
l Buying cheap. Street vendors' prices drop quickly. If they said $20, he aimed for $7; $10, he'd wangle it to $3.
l Riding cheap. Ramirez orchestrates dirt-cheap airfares and swears by public transportation, even though he applies the word "nightmare" to at least four separate overland journeys on two continents.
l Guarding his money. When sleeping, he tucks his money belt inside a pillowcase. People who stuff it in the bottoms of their sleeping bags sometimes awake with a hole cut in the bottom of the bag and no belt. When walking, he tucked the belt into the front of his pants to foil pickpockets, and kept a few stray bills in his pocket in case he was mugged. And in conversation "always say, 'I don't have much money,' even if you've got $3,000 in your pocket," Ramirez says. "Why let people know you have money?"
Lost wanderlust
After his last trip, in May, a funny thing happened to the addict: He got his fill of tripping. Ramirez looks at his world map now, rattling off countries and cities like they're the alphabet, reciting a robust travelog of places and anecdotes.
But, he says, with only a couple of exceptions, he's been everywhere he wants to go. No interest in Central Asia, the Middle East or West Africa. No interest, really, in retracing old steps as a backpacker.
"You only live once," Ramirez says. "Just like the Discovery Channel says, 'Explore your world.' And I've done that."
His application to be on the third incarnation of "Survivor," being filmed in Africa, was rejected. He's considering a return to acting he played a Rollerblader in "The Birdcage" and a bomb squad goon in "The Specialists." In the meantime he's giving tennis lessons, with dreams of owning a business or hosting his own travel show.
While he may not endorse the pursuit of money, he does acknowledge its benefits.
"When I'm older," he says, "if I travel, I'm going to do it in luxury and comfort."
Copyright 2018 The Lawrence Journal-World. All rights reserved. This material may not be published, broadcast, rewritten or redistributed. We strive to uphold our values for every story published.