Americans often have yearned for the end of partisan bickering in Washington. Tuesday, the terrorists took care of that.
In the new environment, politicians and cable talk shows don't dwell anymore on the topics that obsessed them just six days ago stem cells, the Social Security "lockbox," the surplus, patient's rights, prescription drugs, immigration, the minimum wage, oil drilling in Alaska, Gary Condit and Chandra Levy, Al Gore and his beard ... all the stuff that now seems synonymous with a nation at peace.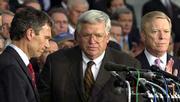 Until the planes hit their targets, the Democratic National Committee was ballyhooing its autumn meeting Thursday in Miami, a sold-out event that would have featured considerable bashing of the Bush brothers (the president and the governor of Florida), as well as a preview of the hot partisan issues of 2002. But it never happened, and nobody can say if it will.
Six days ago, the Democratic Congressional Campaign Committee, the group charged with winning back the House in 2002, operated a Web site that was packed with barbs against the GOP. Today, it simply declares "We are Americans," and urges everybody to give blood.
The national Republicans have canceled mailings. The two hot gubernatorial races of 2001, in New Jersey and Virginia, have been frozen in place. The national parties have pulled their TV advertising in those races. And the Democratic congressional group has canceled a New York fund-raiser that was slated for Oct. 8.
"For the foreseeable future," said conservative analyst Marshall Wittmann, "partisan politics has been placed in a lockbox. Terrorism has rearranged the entire political dynamic."
Bush gains as leader
Although the Democrats are mourning the massive loss of life along with all Americans, they fully recognize although they will not say this publicly that their recent gains against President Bush, on a host of domestic issues, have been blown away by events.
Douglas Brinkley, a presidential historian and director of the Eisenhower Center in New Orleans, said: "Democrats were busy painting Bush as a feckless, half-bright drugstore cowboy, but now he has been transformed overnight into a commander-in-chief doing battle with global terrorism.
"Democrats can't touch Bush on anything now, because they would look craven. They have been reduced to cheerleaders on the sidelines. They were starting to talk about how the 'Bush economy' was leading us into a recession, and it might have worked (at the polls). But now if we have a recession, the administration can blame it on the terrorists."
The partisan case against Bush among other things, that he is beholden to his rich corporate donors, that he opposes patient's rights because he's tight with the HMOs, that the tax cut will force him to raid the Social Security surplus has been silenced in the name of national unity. That surplus, deemed sacred by Democrats six days ago, will be raided for the war effort with bipartisan support.
History repeats itself
A similar dynamic occurred in 1941. Prior to Dec. 7, the congressional Republicans were busy hammering President Roosevelt on domestic policy. Six days before Pearl Harbor, they passed a law curbing the powers of New Deal agencies. But after Pearl Harbor, they stood with the commander.
Washington analyst Stuart Rothenberg said, "Bush is now the 'national leader,' and that lessens the chance of anything passing Congress that he doesn't want. And everything he wants is war-related. There's no way for Democrats to bring up stuff at a time when we're going to be burying people, and that could take many weeks."
One Democrat said privately, "We're still sensitive about the 'dove' label, the idea that we're somehow 'soft' on America. As a party, we don't want to be the first to break the truce with Bush," and be tagged by voters as unpatriotic.
What nobody knows, of course, is how long this detente will last.
Partisan truces have a way of unraveling. The senior George Bush drew a 90 percent approval rating when the Iraqi forces were routed in 1991. He muted criticism, and inspired a number of Democratic heavyweights to skip the '92 race. And he lost anyway.
"As a veteran of the first Bush administration," said Witt-mann, "I know very well that even military success doesn't necessarily translate into electoral success. It shows just how unpredictable politics is."
Copyright 2018 The Lawrence Journal-World. All rights reserved. This material may not be published, broadcast, rewritten or redistributed. We strive to uphold our values for every story published.