Washington — From urban street toughs urging revenge to suburban soccer moms flying flags on minivans, Americans have found a rare emotional oneness in the wake of Tuesday's terrorist attacks.
In a country divided by politics, race, economics and religion, last week's World Trade Center and Pentagon catastrophes have awakened a sense of patriotism and become a rallying point.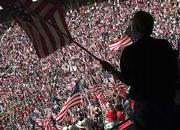 Ten months after less than half of U.S. voters cast a ballot for President Bush, a whopping 89 percent of Americans approve of the way he is handling the terrorist crisis, according to a Newsweek magazine poll in the Sept. 24 edition.
That's more support than his father received after Iraq invaded Kuwait (75 percent) and about the same as Franklin D. Roosevelt had after Japan invaded Pearl Harbor in 1941 (84 percent).
Across the country, children are wearing red, white and blue to school. Donations of cash, blood and medical supplies are at record levels. Churches, synagogues, mosques and temples are crowded with mourners. Even prominent museums in New York City have stopped charging admission.
The national unity may be the most important and stirring byproduct of the tragedy. How long it will last may be another story.
"Going to church and wearing ribbons and lighting candles is perfectly fine and appropriate, and it's good to express ourselves as being united," said David Harris, who teaches law and values at the University of Toledo. "But the hard decisions are all down the road for us. We will have to see where people are when they are called upon to make sacrifices."
President Bush said Saturday that "We're at war," but what kind of war has not been clarified. And what support that "war" might have if it lasts months or years and costs many American lives is unknown.
And while 71 percent of Americans favor more security restrictions on air travel such as new check-in procedures, only 22 percent want to eliminate carry-on luggage on domestic flights, and only 23 percent support random identification checks on streets and highways, according to the Newsweek poll.
But as the death toll from the World Trade Center and Pentagon grows, most of the country is trying to focus on the positive.
While the evidence is only anecdotal, the Pentagon reports that inquiries about military recruitment via e-mail, phone calls and personal visits have doubled since Tuesday.
"It's wonderful to see the American public pulling together, and the patriotism of our young people," said Maj. Cynthia Colin, a Defense Department spokeswoman.
At Capitol Image, a downtown Washington souvenir shop, sales of patriotic trinkets have tripled. Manager Vicky Tubilla said only Fourth of July sales rival the recent surge.
"It's been crazy. Key chains, pins, stuffed animals, T-shirts, even Christmas ornaments, anything with a flag on it is selling," she said.
Even people who have opposed U.S. policies in the Middle East are standing behind Bush. "When you attack my country, all bets are off. All deals are canceled," said Gary Gray, a 47-year-old writer in Oakland, Calif.
"I still cannot believe those towers are gone. The pictures are so vivid in my mind. Just like the day JFK was killed."
U.S. Rep. Mike Ferguson, R-N.J., whose suburban district is close to Manhattan, is organizing blood drives and visiting churches and fire stations. Saturday, he and his wife, Maureen, were planning to take food to three neighborhood families who had lost loved ones in the World Trade Center attacks.
"A situation like this serves as a very potent reminder of what, in the end, is most important," Ferguson said. "What binds us together is our love of freedom, our love of democracy and our love of the things that make this country great."
Copyright 2018 The Lawrence Journal-World. All rights reserved. This material may not be published, broadcast, rewritten or redistributed. We strive to uphold our values for every story published.