Christians, Muslims, Jews and people of diverse faiths and spiritual backgrounds are reacting to America's worst terrorist attack with an outpouring of prayer and worship, often spontaneously.
From candlelight vigils on the steps of the U.S. Capitol where members of Congress launched into a rendition of "God Bless America" to vigil services in Lawrence to petitions for prayer that replaced "Go Vols" billboards in Knoxville, Tenn., Americans are seeking spiritual help.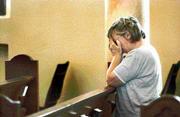 Medical researchers and psychologists say the use of religion in the face of overwhelming emotional trauma is generally healthy. Prayer and other acts of faith have been proven to assist patients in recovery after major illness.
"Faith and spirituality adds to our emotional coping skill," said psychologist David Larson, president of the International Center for the Integration of Health and Spirituality. "This gives us a rock, a place we can turn to when the waters are overwhelming us."
He praised America's political and social leaders for urging a religious response from a shell-shocked population.
President Bush has declared that today will be a national day of prayer and remembrance for the victims of the terrorist attacks, taking his cue from similar declarations made by Abraham Lincoln and Franklin Roosevelt in times of national crises.
"I ask that the people of the United States and places of worship mark this national day with noontime memorial services, the ringing of bells at that hour and evening candlelight remembrance vigils," Bush said Thursday. "I encourage employers to permit their workers time off during the lunch hour to attend the noontime services to pray for our land."
Bush said he will attend a prayer service at the National Cathedral in Washington before traveling today to New York City to observe rescue efforts at the demolished World Trade Center.
The Rev. Nathan Baxter, dean of the cathedral, said prayer is beneficial regardless of which religion is being practiced.
"All of the world's great religions teach that revenge and despair simply fuel more violence and pain," Baxter said. "I encourage all people to seek solace in their religious faith and to pray for the grace to bear up under the weight of this tragedy and to be sustained by faith now and in the days to come."
Why are so many Americans who live in an overwhelmingly secular culture turning to their faith in the aftermath of these disasters?
Lawrence pastors tried to explain the phenomenon.
"Anytime a catastrophe happens, whether it's on a personal level or a national level, people naturally turn to something bigger than themselves for answers," said the Rev. Paul Gray, senior pastor of Heartland Community Church, 619 Vt. "Intuitively we know that we have a good president and a good government, but this (disaster) is over their heads."
The reasons behind the flood of Americans to prayer services and vigils are complex, according to the Rev. James Shaughnessy of Corpus Christi Catholic Church, 6001 W. 15th St.
"My take on this is it's not necessarily theological, but it's emotional and psychological," he said. "People just need to do something. There's not much that they can do but prayer.
"It's also important that as Americans, we're really used to being in control of our destiny. This is so different for us. This has shaken our self-confidence."
The prayer vigils serve an important purpose, Shaughnessy said.
"I think they are emotionally and spiritually healing," he said. "They give people time to express their grief, faith and belief. It can also call us to forgiveness."
Rabbi Irwin Kula, president of the National Jewish Center for Learning and Leadership, called on people to use spiritual values to turn tragedy into success.
"As we approach Rosh Hashanah, the birthday of the world, we need to consider the world that we hope is being reborn," Kula said. "We actually have the power to address both the social, political and economic forces that shape our external world and the spiritual and psychological forces that shape our internal world."
Copyright 2018 The Lawrence Journal-World. All rights reserved. This material may not be published, broadcast, rewritten or redistributed. We strive to uphold our values for every story published.