Two teams walked off Free State High's soccer field Thursday night: Free State, with players wearing grass stains and dejected looks as the Firebirds lost 2-1, and Shawnee Mission East, whose players laughed and smiled as they picked up their fifth win of the season.
It seemed like just another game.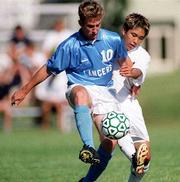 But it wasn't.
Thursday wasn't about a game, or a final score. It was the first step in a healing process for youngsters, who like many other Americans can't quite fathom the magnitude of Tuesday's tragedy.
While nearly every other sporting venue in this country, MLB, NFL, NCAA was postponed, high schoolers got back on the playing fields.
"It's kind of nice to get out here and not have to think about everything that's going on around you," said Free State senior Nick Ens. "Just to go out, have fun and play soccer."
Don't misunderstand Ens, or anyone for that matter. Thursday wasn't about the game for these teams or their fans. It was a respite from all the tragedy surrounding them.
"We talked with them about this horrible tragedy," Free State coach Jason Pendleton said. "I told them, no matter what you do in life, do it to the fullest.
"There are horrible things going on right now, but we just told them to go out and do their best at whatever task is in front of them."
As far as wins and losses go, the Firebirds didn't quite get it done Thursday. Free State played well the first 30 minutes of each half and was right there with one of the top teams in the Sunflower League, but those last 10 minutes proved costly.
Especially in the second half, after Free State missed on close scoring chances, yet held SM East at bay. Tempers flared and a lack of composure hurt the Firebirds.
After two minor fights near midfield in the game's final minute, SM East gained control and scored the game winner.
SM East's Taylor Warwick tapped a crisp pass to teammate Colby Talbott, who weaved in and out of Free State defenders and blasted home the game winner with only seven seconds left in regulation.
"This is where they come to have fun," said SM East coach Jim Ricker, whose team defeated SM West, 2-1, Wednesday in double overtime.
Ricker said Thursday offered a good victory over a good team but also helped his kids take their minds off national news for a short time and gave all players a chance to relieve some of their emotions.
Indeed at times fans, players and coaches become overly animated but Ricker said that's the way it is sometimes in a tough game.
"When it's a tight game with two good teams, and everyone wants it more than another, some things are going to happen," Ricker said.
SM East made things happen in the first half when Davis Zagortz put the Lancers on the board with about 10 minutes left. It was a lead which would hold until the game's final 10 minutes.
Copyright 2018 The Lawrence Journal-World. All rights reserved. This material may not be published, broadcast, rewritten or redistributed. We strive to uphold our values for every story published.