New York — The faces of the missing were plastered all over the city Thursday.
Thousand of fliers bearing the images of those who vanished when the World Trade Center collapsed were glued to walls and lampposts, nailed to trees and park benches, pinned to bulletin boards in hospitals all over Manhattan.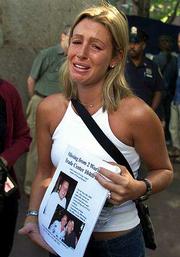 The rich lives of those caught in the disaster Tuesday morning were reduced to a single page containing a photo, a description, a contact number and, in some cases, a desperate plea.
At the First Avenue entrance of Bellevue Hospital, countless numbers of fliers fluttered from a section dubbed the Wall of Prayer.
There was bare-chested John Katsimatides, smiling broadly.
There was Joe Roberto, cradling a newborn.
There was Bruce Eagleson, holding a glass of champagne.
There was Marcia Cecil Carter, hugging her boyfriend.
Maritza Castro of the Bronx, who came to the hospital hoping to find her missing brother, Jose, added another page to the wall. It said Jose was 37 and a prep chef who worked in the cafeteria on the 101st floor of tower 1.
Castro, 37, who like most of the desperate relatives refused to refer to her missing brother in the past tense, added one other detail.
"He's a clown," Castro said. "He likes to joke."
Outside St. Vincent's Medical Center, one side of a van owned by Channel 47 Telemundo was covered with more fliers.
Lena Russi, 31, an alcohol abuse counselor from Buffalo, cried as she taped another paper to the van this one bearing the face of missing firefighter Robert Foti, chewing on a cigar.
"I came out here from Buffalo to help find my brother-in-law," she said. "He has been a firefighter for 14 years. He is 42. . . . He has three children."
Then Russi paused to wipe away a tear.
"He was fearless, never afraid to jump right in," she said. "He was getting out of work Tuesday morning when he was told to go downtown. He talked to his brother, Joe, who is also a fireman, and said he would see him soon. That was the last time anyone heard from him."
Over at the Armory on Lexington Avenue at 26th Street, NYPD detectives were interviewing people looking for their loved ones. The line to get inside stretched along Lexington Avenue. Loud cheers erupted when former President Bill Clinton came by to offer some comfort.
"You don't ever want to cut off hope, there's always that," said Paul Fagan of the upper West Side, who came looking for his best friend's daughter, 23-year-old Catherine Fairfax MacRae.
Matt Walton still clung to hope that his pal Leonard Castrianno was alive under the rubble. He said he got a phone call on his answering machine at 11:30 a.m. Thursday and is convinced the scratchy voice was his pal's.
"He said, 'I don't know how far they are from me,"' Walton said.
Beth Dincuff of South River, N.J., whose younger brother, Chris, 31, is missing, said the most unbearable moment for her was stopping to get his dental records before coming to Manhattan.
"I just ran in really quickly and got them," she said. "They said they were terribly sorry. I got them and ran out."
Michael Rodriguez of the Bronx, whose sister Lisa King, 34, is missing, checked every hospital and every morgue before going to the Armory.
"I feel like I've been to the moon and back 15 times," he said. "It's utter helplessness, that's what it feels like."
About a thousand people worked for Cantor Fitzgerald brokerage on the top floor of tower 1. Two days after the attack, only 300 were known to be safe.
The families of those still missing gathered Wednesday at the Pierre Hotel and watched intently as a man and a woman each carrying slips of paper approached the bulletin board that was placed on an easel in the ballroom.
Before they could tape the papers to the board, they were surrounded by relatives looking to see whether their missing loved ones were on the new list of survivors. Most walked away crying.
"I keep getting my hopes up," one woman said, mopping the tears from her eyes.
Copyright 2018 The Lawrence Journal-World. All rights reserved. This material may not be published, broadcast, rewritten or redistributed. We strive to uphold our values for every story published.