New York — The nation's stock markets plan to resume trading Monday, ending a four-day shutdown following the destruction of the World Trade Center, officials said Thursday.
Stock market officials, who made their decision after meeting with representatives of the city, investment firms and local utilities, said they would test market systems Saturday. If the test goes well, trading would resume at 8:30 a.m. CDT Monday.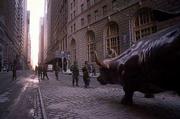 The shutdown of the New York Stock Exchange, the nation's oldest, will have been the longest since a weeklong closing after the 1929 crash. About $100 billion worth of trades are conducted daily in the United States, according to the Securities Industry Assn.
Hundreds of offices were destroyed in Tuesday's terrorist attacks and the death toll is feared to climb into the thousands. Hundreds of other firms were forced to flee buildings that were damaged or closed, and many companies are setting up operations at replacement offices far from Wall Street's narrow alleys.
NYSE Chairman Richard Grasso said no one in the financial industry suggested that resumption of trading was more important than the massive effort to recover "those who are still with us that are trapped in the wreckage" of the trade center.
Earlier Thursday, treasury bond and commodities futures contracts resumed trading in abbreviated sessions. Bonds are not tied to a physical site, while most futures trading occurs in Chicago; the Kansas City Board of Trade also resumed operations.
Trading was subdued and relatively light as futures activity resumed on the Chicago Board of Trade and Chicago Mercantile Exchange, where one broker called it "hollow trading" in the absence of activity on Wall Street.
A jump in bond prices indicated that investors, nervous about the economy even before Tuesday's terrorist attacks in New York and Washington, were seeking safe haven investments.
But the lack of volatility reflected increasing hopes that the Federal Reserve would lower rates for the eighth time this year.
"It's very different today," said William Dalenberg, who trades Eurodollars at the Merc. "Everyone's still grieving. ... Everyone's very cautious, I think, about getting into the market."
Copyright 2018 The Associated Press. All rights reserved. This material may not be published, broadcast, rewritten or redistributed. We strive to uphold our values for every story published.