Overland Park — Free State High's downer of a football season dropped a notch Thursday night.
For the third straight week, the Firebirds had a chance to win in the fourth quarter but had their final possession end with an interception as Shawnee Mission South held on for a 28-20 Sunflower League win over Free State at SM South District Stadium.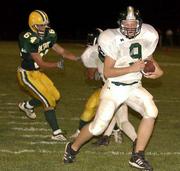 "I have a strong feeling we could be 3-0 if we had the discipline to be in the right spot and right now that's lacking and were 0-3 because of it," Firebird coach Bob Lisher said.
Shawnee Mission South (1-2) didn't resemble the squad that dropped its first two games. The Raiders finished with 329 yards total offense 225 passing and 104 rushing. Entering the FSHS contest, SM South had a measly 12 rushing yards for the season.
"We were selling out to stop the pass and we didn't do a good job stopping the pass and when you do that you're going to give up a little bit of rushing yardage," Lisher said.
SM South scored the final 14 points after Free State took a 20-14 lead with 3:27 left in the third quarter on tailback Walker Douglas' one-yard run and quarterback Matt Berner's two-point conversion.
Following Douglas' score, SM South struck on its next play. Tim Barger's short pass over the middle to wide receiver David Lewis resulted in an 84-yard TD. The PAT gave the Raiders a 21-20 advantage, the last of six lead changes.
"We just can't seem to get people in the right place," Lisher lamented of the blown coverage. "In a four-deep zone that shouldn't happen. We were playing a four-deep zone on the play they scored the winning touchdown."
The Raiders, aided by a offsides call against Free State on a fourth-and-inches play, scored on their next drive for the final margin.
Late in the fourth quarter, FSHS threatened, driving to SM South's 15-yard line. The 12-play drive, though, stalled when Berner was intercepted by defensive back Matt Sparks at the 4-yard line with 2:21 left. SM South had seven plays to run out the clock.
"We had an opportunity to make a big play at the end and we overthrew the receiver," Lisher said. "They had a chance to make a play and they didn't overthrow the receiver."
The intended FSHS receiver on the Firebirds' final play was senior tight end Jeremiah Gress. Berner had faked a pitch before looking to his left to Gress.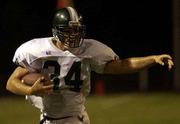 "We have to step up in the fourth quarter," Gress said. "We've had chances all three games. We could easily be 3-0 if we learned how to play in the fourth quarter. Little mistakes kill us all over the field the missed tackling and letting people go deep. Defense is hurting us right now."
The Firebirds finished with 262 yards total offense 133 passing and 129 rushing. Berner completed seven of 13 passes, including a 31-yard TD pass to sophomore Cole Douglas with 53 seconds left in the first half.
Senior Walker Douglas, Cole's brother, rushed 17 times for 71 yards and two TDs to lead Free State.
Kevin Sandefur, a 5-foot-6, 170-pound running back, accounted for 101 of the Raiders' 104 rushing yards.
"I think our kids are playing hard, but they're not where they're supposed to be on certain plays," Lisher said. "Every time that happens someone gets a big play on us.
"We had a chance to tie late in the game. We were driving it down their throats and the free safety was out in the middle of the field and our tight end was wide open. We had a chance to make plays and we don't make them. Good teams make them."
Free State's schedule doesn't get easier with the three Olathe schools Olathe East, Olathe North and Olathe South upcoming. The three schools are undefeated entering tonight's games.
"If our kids get in the right position we're capable of playing with those guys and maybe even getting a couple of them," said Lisher, whose Firebirds will play host to Olathe East next Friday at Haskell Stadium.
The flag at SM South's stadium was at half-mast because of the tragedy at the World Trade Center in New York and at the Pentagon. The estimated 1,000 fans in attendance also paused for a moment of silence before the game.
Copyright 2018 The Lawrence Journal-World. All rights reserved. This material may not be published, broadcast, rewritten or redistributed. We strive to uphold our values for every story published.