Eddyville, Ky. — The heavy iron bars clang open, and 80-year-old Paul Stevens strolls calmly into the midst of Kentucky's condemned killers.
Word of his arrival spreads quickly among the death-row prisoners, who mingle in an exercise area that surrounds their cramped cells. The prisoners stop whatever they're doing, preparing for a weekly reunion with a man from the outside who is accepted as an insider.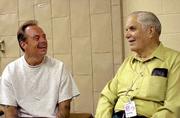 Smiling, Stevens offers hugs and encouragement, and his affection is returned with hearty embraces.
"This man, he is genuine," said death row inmate David Matthews. "He has nothing but love in his heart for everyone."
For 15 years, Stevens has counseled inmates as a Roman Catholic lay minister at the Kentucky State Penitentiary. He chats with anyone, but he says some of his closest relationships within the prison walls are with convicted murderers, with whom Stevens shares a history of violence and tragedy.
With each prison visit, Stevens carries the memory of his own daughter, Cindy, who was stabbed to death in 1969 in Evansville, Ind. Stevens carries a faded black-and-white picture of Cindy that he sometimes shows to inmates. Her rosary beads remain at the prison and are passed among prisoners, gaining iconic status for men seeking solace.
Warden Philip Parker says prisoners and staff alike marvel at Stevens' ability to channel his grief into something constructive.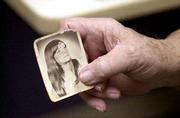 "His strength and his character are just admired," Parker said. "How can you not admire someone who comes into a prison and counsels to people who did the same thing that happened to his own daughter?"
'We're still human'
Inmates say Stevens treats them as human beings and offers a moral compass to guide them through prison and beyond, if they're released.
"We messed up in life and hurt a lot of people, but we're still human," said Larry Hansen, who is serving two life sentences for murder.
Stevens and his wife, Ruth, have seven children. Stevens says his relationship with Cindy was very close. As a teen-ager, she would stay up at night, waiting for Stevens to come home from work at Whirlpool so they could talk.
But Cindy was slain at age 20 by a man for whom she was baby-sitting, and it was Stevens who found her body in a pool of blood. Her killer, Jack E. Gatewood, had passed out a few feet away, the bloody knife nearby.
Stevens said he was filled with hatred for the man and wanted revenge. He pushed for the death penalty. Instead, Gatewood was convicted of second-degree murder and paroled in 1978.
Afterward, Stevens pulled away from his Catholic faith. His bitterness boiled for years, until he found a new inner peace while attending a religious retreat in Owensboro.
With his faith renewed, he became an outspoken opponent of the death penalty. Still, there was something missing, he said.
That void was filled, he said, when he became a spiritual adviser at the maximum-security prison in western Kentucky. Stevens said his wife fully supports his work and sometimes accompanies him to the prison. His children have mixed feelings about his avocation; some are fully supportive, others are lukewarm.
But Stevens credits his prison work with helping him find happiness.
"This has completed my healing," Stevens said in an office next to the prison's small chapel, converted from an old cell block.
Stevens believes that God led him to the prison to counsel inmates. Others agree that a greater power is at work.
"I know this man is God-inspired," said Cameron Smith, who is serving a life sentence for rape and other crimes. "I'm grateful for him every day."
Follow their hearts
Stevens never asks about the circumstances that led to a man's imprisonment. Nor does he push his own religious beliefs on inmates. He counsels prisoners to follow their own hearts.
"I don't believe in these jailhouse conversions because they don't last," he said.
Parker, the warden, said Stevens' quiet power was most evident in 1997 when Harold McQueen was executed at the prison.
Stevens and McQueen had long been close. Stevens visited daily with McQueen in his final 10 days of life, and they shared a final prayer moments before McQueen's death. McQueen carried Cindy Stevens' rosary beads with him to the electric chair.
It was Kentucky's first execution in 35 years, and tensions were running extremely high. Prison staff didn't know how inmates would react.
A short time after McQueen died, Stevens went to death row and talked with the prisoners, many of whom had spent years with McQueen.
"I think he had a very calming effect on the other death row inmates, who were grieving," Parker said.
There were no violent incidents at the prison that night.
"Somebody is guiding him that is not of this world," Parker said.
Copyright 2018 The Associated Press. All rights reserved. This material may not be published, broadcast, rewritten or redistributed. We strive to uphold our values for every story published.