Kansas University and the City of Lawrence are coordinating an interdenominational prayer service at noon today in the Lied Center. Classes at KU will be canceled between 11:30 a.m. to 1:30 p.m.
Trinity Episcopal Church's Chapel of the Holy Trinity, 1027 Vt., will be open for personal prayer from 8:30 a.m. to 5 p.m. today. A community prayer service will be at noon.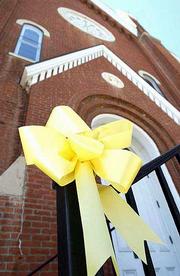 First Christian Church, 1000 Ky., will open its doors for a prayer service from noon to 1 p.m. today.
First United Methodist Church, 946 Vt., will conduct a prayer service from noon to 12:30 p.m. today.
Plymouth Congregational Church, 925 Vt., will conduct a memorial service at 10 a.m. Saturday.
"Consciousness: A Call to Prayer in Jesus' Name," sponsored by KU's Campus Christians, will be at 7 p.m. today at the Kansas Union ballroom.
St. Margaret's Episcopal Church, 5700 W. Sixth St., will hold a candlelight prayer service at 7 p.m. today.
Heartland Community Church, 619 Vt., will join more than 700 churches nationwide from 4 p.m. to 5:30 p.m. Saturday in a live satellite hookup to pray for bombing victims.
Canceled and rescheduled events
The Douglas County Family and Community Education program "End of Life: Kansans Deserve Excellent Care" scheduled at 9:30 a.m. today has been postponed until further notice.
The Joe Diffie concert at 7:30 p.m. today at Ottawa Municipal Auditorium has been postponed. Ticket holders should keep their tickets. The concert will be rescheduled. Anyone with questions can call the auditorium at (785) 242-8810.
Because of transportation difficulties, the Count Basie Orchestra is unable to perform Friday and Saturday nights with the Kansas City Symphony. However, the symphony orchestra will play a revised program at 8 p.m. in the Music Hall, 301 W. 13th, Kansas City, Mo. The program will be dedicated to the victims of the terrorist attacks. Attempts will be made to reschedule the Count Basie Orchestra at a later date.
Kansas University classes between 11:30 a.m. and 1:30 p.m. will be canceled.
Copyright 2018 The Lawrence Journal-World. All rights reserved. This material may not be published, broadcast, rewritten or redistributed. We strive to uphold our values for every story published.