This week's terrorist attacks in New York City and Washington, D.C., put a new perspective on the law enforcement and fire services blood drive set for Saturday.
"Even before that, there was a shortage of blood," Douglas County Sheriff Rick Trapp said. "This takes on a new importance."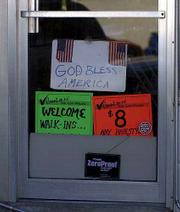 Lawrence Police, Lawrence-Douglas County Fire & Medical and the Douglas County Sheriff's Office are conducting their second annual Battle for Blood drive. It will be from 11 a.m. to 2 p.m. Saturday at the Community Blood Center, 535 Gateway Drive.
The three emergency service agencies are having a friendly competition to see how many people will donate blood under their name. Donors can specify which agency will get credit for their donation.
"I just want people to come out and give blood," Police Sgt. Kirk Fultz said. "They can donate under whichever department they want."
Saturday's drive is part of an annual September blood drive that will continue through next week, said Amanda Storm, Community Blood Center recruitment representative. One pint will be taken from each person donating blood, she said.
Only a few hours after Tuesday's terrorist attacks, large numbers of people began showing up to donate at the blood center. The increased interest in donating has continued this week, but it has slowed down, Storm said. She estimated that since Tuesday 150 pints had been collected at the center.
Although there is a big need for blood in New York and Washington, the need will continue there for a number of weeks because many of the injured will have additional surgeries, Storm noted. She said she hoped interest in donating would continue beyond this week.
People must wait 56 days between blood donations, Storm said.
"It's a small sacrifice to pay," said Trapp, who plans to be a donor Saturday.
Copyright 2018 The Lawrence Journal-World. All rights reserved. This material may not be published, broadcast, rewritten or redistributed. We strive to uphold our values for every story published.