On Wednesday, the Kansas-Wyoming football game was a go.
On Thursday, the Kansas-Wyoming football game was a no.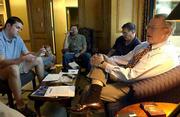 It was a Big 12 Conference decision. League officials voted over the Thursday post-noon hour to postpone all athletics competition through Sunday in wake of the terrorist attacks in New York City and Washington, D.C.
"Our decision is based on what's going on across the whole landscape of college athletics," KU athletics director Al Bohl said.
Once the National Football League announced Thursday morning it had postponed its weekend games, the dominos started to fall. NASCAR called off its weekend races, major league baseball pulled the plug and finally college football dropped the curtain virtually en masse.
Travel difficulties played a role in the decision. Some Big 12 games posed no travel problem, such as Tulsa at Oklahoma and Iowa at Iowa State. And Kansas-Wyoming could have been played because Wyoming was prepared to bus to Lawrence.
In fact, Wyoming officials learned less than half an hour before the team was scheduled to depart that the game was off. Three motor coaches were lined up adjacent to the Wyoming football facility ready to go.
"It was real close," Bohl said.
But scheduled games involving Big 12 teams such as Colorado at Washington State, Baylor at Minnesota and Louisiana Tech at Kansas State would have required airplane charters and none were available.
Rather than play a few games and postpone others, the Big 12 postponed them all.
"We had agreed earlier this week to have a unified decision," Bohl said.
On Wednesday, the unified decision was to go ahead and play. But that decision, Bohl said, was premature.
"It became obvious as new information became available that teams were going to face major air travel obstacles," Bohl said. "We thought the planes would be up and running."
A statement issued by the Big 12 office said: "Notwithstanding the strong sentiment of the institutions to return to normal activities as soon as possible, the practical and logistical issues associated with travel to campus athletics events and other management concerns ultimately could not be overcome."
Other Saturday events involving KU sports teams postponed were the cross country team's trip to Iowa State, the volleyball team's journey to Baylor and a scheduled home soccer match with Saint Louis.
"This is not just a football issue," Bohl said. "We will look at our options to reschedule and make an announcement in the near future."
If the Kansas-Wyoming football game is rescheduled, it will almost have to be on Nov. 24, the Saturday after the end of the regular season.
Kansas has an open date on Sept. 29, but Wyoming is scheduled to play host to geographic rival Colorado State on that Saturday. Wyoming has an open date on Nov. 3, but KU will play host to Nebraska that day.
Saturday's football game was scheduled for regional television. That would have meant a $340,000 check for the KU athletics department. It's unlikely the game would be televised if reset for Nov. 24.
Bohl stressed he wasn't concerned about the financial aspects, however.
"Finances were never a part of the decision," Bohl said. "We're dealing with what's the right thing to do."
Bohl conceded the NFL's decision to postpone was "one of the pieces in the puzzle" and that similar decisions by baseball and NASCAR played a role.
"But what does it matter?," Bohl said. "This issue is so minute. In New York, they're trying to move bricks and mortar and steel and at the Pentagon they're trying to find out who did this."
Copyright 2018 The Lawrence Journal-World. All rights reserved. This material may not be published, broadcast, rewritten or redistributed. We strive to uphold our values for every story published.