New York — Like a patient struggling to his feet after surgery, New York City took a few steps toward recovery Thursday while recognizing that life will never be the same.
In Manhattan north of 14th Street, office buildings reopened, restaurants put out their sidewalk tables and hawkers handed out fliers. Traffic on the streets and ridership on the subways were up sharply from Wednesday.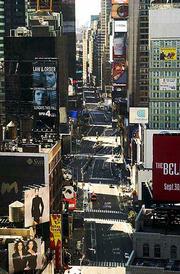 Not that life seemed normal. Bomb scares forced evacuations at Grand Central Terminal and a Times Square subway station. Trucks full of sand blocked access to the United Nations. On Vanderbilt Avenue, volunteer rescue workers boarded a bus for the World Trade Center disaster site.
"This tragedy will linger, probably for months, maybe years, maybe forever," said Ed Casal, an investment banker who went back to work while fearing for friends missing in the World Trade Center catastrophe. "But you have to go on. Psychologically you have to get past it."
Casal, who lives in the suburb of Pelham, took a train into the city with his teen-age son, who was returning to school in the Bronx. Waiting on the platform, they read together from a newspaper account of the search for victims. Casal's friend and neighbor Joseph Shea was among the thousands missing in the ruins; Shea's sons are friends of Casal's sons.
"You do what you can for their family, for your family," Casal said. "Part of the healing is carrying on."
On Park Avenue, Francis Coughlin helped install a new limestone facade on an office building, a job that was interrupted Tuesday morning when terrorists leveled the trade center's 110-story towers.
"We're New Yorkers," he said. "You can't keep us down. We don't scare. We needed yesterday, I guess, to think about what happened, but like the mayor said, we have to go on."
Closer to the scene of the catastrophe, recovery was going more slowly. At the Zeytuna restaurant near Wall Street, Tuesday's buffet offerings were still on display. Scrawled in one store window was the message, "This won't stop New York."
Copyright 2018 The Associated Press. All rights reserved. This material may not be published, broadcast, rewritten or redistributed. We strive to uphold our values for every story published.