What do you think? My dinner companion glanced in the direction of the young couple passing our table. First date or second? We studied them a little closer, debated the issue and decided second. Not because they didn't look ill at ease and self-conscious (they did), but because, why would you waste Zin on the precarious prospects of a first date? This place is for finalists only.
Just to be clear, we weren't staring. Staring is tactlessly examining people when 1) it might make them uncomfortable and 2) they're not someplace like Zin, where the clientele fairly begs to be noticed. ("Look ma! No bra!") Here, staring at beautiful people comes with the price of admission.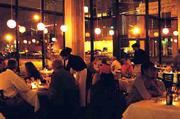 The "historic crossroads art district" of Kansas City, where Zin is located, might also be called a "transitional" block of Main Street. It celebrates the full spectrum of social diversity with attractions ranging from a sophisticated modern art gallery to people sleeping in doorways. But although the neighborhood has some rough edges, Zin itself is smooth and sleek.
The transformation actually begins outside the restaurant, on the sidewalk, which has been embedded with lighted glass blocks that announce the restaurant. Inside, the decor is impressively stark; with nobody in it, I doubt the large, spare dining room would strike anyone as inherently inviting. The lighted bar and a couple of paintings provide little visual comfort, but Zin actually depends heavily on its populace to infuse the room with personality, providing only a minimalist set for the patrons who are given center stage for the evening's performance.
Superb courses
Let me point out that the decor could consist of Velvet Elvis pictures and milk-crate chairs and it wouldn't matter, because the food is superlative. We started with a shapely array of rounds of sesame bread, accompanied by a triangle of butter placed on a hexagonal plate. Individual ramekins of roasted beets were an unusual offering, but they deftly piqued our interest for the culinary triumphs still to come.
As an appetizer, a ragout of forest mushrooms, mozzarella and white truffle oil captured our fancy. The mushrooms were anchored with a light pastry shell, so that the effect was akin to a bouquet spilling out of a vase. Also, it was delicious. (My companion confessed she had to stop herself from licking the plate.)
Our entr arrived simultaneously with a striking yin-yang (or is it Zin-Zang?) effect: mine on a square black plate, hers on a white round one; mine neatly perched in the middle, with a formal border of sauce; hers languishing comfortably in a pool of broth. Lots of restaurants wax on about artful presentation; at Zin they really do it, and they do it really well. Certainly this effort is reflected in the cost, but at least they're putting your money where your mouth is.
The venison loin came in thin, medium-rare slices stacked loosely on a bed of green apple slaw with red cabbage and walnuts. Any qualms I might have felt about eating a nearly raw deer were quickly assuaged with the first bite, which was cooked enough to remove any suggestion of bloodiness, but stopped before any toughness set in. The crisp, cool slaw was cast in a classic role, a perfect foil in temperature, taste and texture. Its simple tartness balanced the venison's flavor, while the walnuts provided a gentle bridge between the two.
Also excellent was the potato-wrapped salmon. I still haven't figured out how they apparently sliced off a continuous sheet of potato that encased the salmon with nary a seam. In any case, it was exceptionally good. The strong taste of salmon was tempered with the full-bodied but milder flavor of a summer leek broth, and a side serving of sesame snap peas offered a colorful alternative.
Cleansing the palate
If all this had somehow failed to impress, Zin saves its trump card to the end. Here, even fat-phobic health fanatics would be hard-pressed to contest the advice, "Life's short eat dessert first." The dessert menu, both in selection and quality, was brace yourselves positively Zinful. We actually declined the highly intriguing "fruit sushi" for the even more intriguing "palate of sorbets." For this, the chef shaped a chocolate cookie to resemble an artist's palate, then used miniature dips of sorbet to mimic the paints. Then, two slices of fudge were formed into an "easel" which supported a flat wafer cookie bearing a "painting" of a woman.
This was clearly the visual pi de rstance of our meal and it tasted good, particularly the variety of sorbets but just to hedge our bet we also tried a chocolate hazelnut pot de cr. Though not as elaborate, this was even better-tasting, wisely served at room temperature to fully emphasize the hazelnut flavor.
When I left, I was fat and happy, ready to curl up in a doorway and wait for the restaurant to re-open the next day. I was, in short, in a very Zin-like state of existence.
Copyright 2018 The Lawrence Journal-World. All rights reserved. This material may not be published, broadcast, rewritten or redistributed. We strive to uphold our values for every story published.