At the time of this writing, Lawrence area churches and secular organizations were still making plans for how they will remember the victims and offer comfort to the community following Tuesday morning's tragic events in New York City and Washington, D.C.
St. John the Evangelist Catholic Church at 1234 Kentucky has planned a prayer service for 2:45 pm, Tuesday afternoon for the victims of terrorism and for the country. The event is open to the entire community as will the church's regular 7:30 a.m. Mass on Wednesday morning.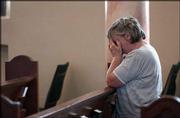 Trinity Lutheran Church, between 12th and 13th on New Hampshire Street, has opened its chapel for a voluntary prayer vigil until 8 p.m. Tuesday. The community has been invited.
At 1:00 p.m., Victory Bible Church at 1942 Massachusetts will open it's chapel for a vigil.
Wednesday evening from 6:00 to 7:00 p.m., Central United Methodist Church at 1501 Massachusetts will hold a service for the victims and for the nation.
Trinity Episcopal Church at 1011 Vermont Street will hold an evening prayer service with music at 7:00 p.m. on Wednesday.
Heartland Community Church at 619 Vermont Street is holding a prayer service ay 7:00 p.m. Tuesday evening.
St. Margaret's Episcopal Church at 964 Highway 40 will hold a special prayer service at 7:00 p.m. Tuesday evening.
The Eudora Ministerial Alliance will hold a community prayer service at Eudora High School at 7:00 p.m. Tuesday evening.
The Lawrence Zen Center at 1423 New York will have a chanting service Tuesday evening at 7:00 p.m. Tuesday evening.
The Lawrence Jewish Community Center at 917 Highland Drive is holding a memorial Service at 7:00 p.m. Tuesday evening.
Unity Church at 416 Lincoln will hold a service at 7:00 p.m. Tuesday evening.
Lawrence Heights Christian Church at 2321 Peterson Road will hold a service at 7:30 p.m. Tuesday evening.
Plymouth Congregational Church at 925 Vermont will hold a service at 7:00 p.m. Tuesday evening.
Cornerstone Southern Baptist Church at 802 West 22nd Terrace will hold a service at 7:00 p.m. Tuesday evening.
First Presbyterian Church at 2415 Clinton Parkway will have a prayer vigil Wednesday evening at 6:30 p.m.
Holiday Hills Church of the Nazarene at 1020 Kasold will have a prayer meeting from 7:00 to 8:00 p.m. Tuesday evening.
The Lawrence Association of Evangelicals (L.A.E.) is sponsoring a citywide prayer event, " Meet HIM In The GYM" , to seek God's blessing and protection for schools in the area. Concerned Christians from all denominations are invited to come and pray for Students, Teachers, Higher Education, and School Administration at Sunset Hill Elementary School, 901 Schwarz Rd., on Tuesday, Sept. 18th, 7:00-8:30PM. This event
will also be a prayer service, in light of recent terrorist attacks, for the nation, the U.S. government and rescuers who are helping people in the disasters.
More information will be added to this page as it becomes available.
If your organization has a related event you would like to promote, including vigils, services, musical events and collections of donations for the victims, please contact Michael Newman at 832-7906 or Jim Baker at 832-7173.
Copyright 2018 The Lawrence Journal-World. All rights reserved. This material may not be published, broadcast, rewritten or redistributed. We strive to uphold our values for every story published.