WINCHESTER — Elk: It's what's for dinner.
Or at least that's what Charles Edmonds hopes will be the case one day soon.
He's betting that more Americans will develop a taste for the low-fat red meat from farm-raised, grain-fed elk, which represent a growing ranch industry across the country.
Edmonds, 64, and his wife, Karen, own Rocky Hills Elk Ranch near Winchester, about 24 miles north of Lawrence in Jefferson County.
There, Edmonds and his 39-year-old son, Rick, have a herd of more than 60 pen-raised elk bulls, cows and calves that they periodically cull to sell as meat on Saturday mornings at the Lawrence Farmers Market in the 1000 block of Vermont Street.
This is the first year that frozen meats have been permitted for sale at the Lawrence market, and response has been good.
"Every week I go to the market, I'm hearing more interest in it 'Oh, there's elk meat now,'" Charles Edmonds said. "But it takes awhile to establish a new market. Everyone that's come back and talked to me is really pleased with the meat."
It's also a versatile product, he said.
"I've had several people who are grilling theirs, two ladies who use it for shish kebabs and some people who've bought my (elk) breakfast sausage," he said.
Raising elk a member of the deer family is a growing business, according to Edmonds, who is a board member of the Kansas Elk Breeders Assn. The group has more than 30 members across the state.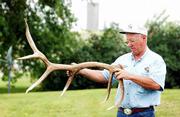 Consumption of venison, including elk meat, has more than doubled in the United States since 1992.
Edmonds said meat from elk is lower in fat, cholesterol and calories than other red meats, so demand for it is increasing among health-conscious consumers.
Elk at the 35-acre Rocky Hills Elk Ranch are free of growth hormones and antibiotics, a drawing point for many people who buy meat from Edmonds.
The elk are slaughtered and processed at a certified meat locker in Macon, Mo. All of the USDA-inspected, boneless cuts of meat that Edmonds offers at market have been flash-frozen.
Two Lawrence restaurants have contacted Edmonds about putting his elk on their menus, and the Community Mercantile Co-op, 901 Iowa, has told him it will consider selling his meat there if enough customers request it.
Those who shy away from eating wild game will probably like the mild flavor of meat from Edmonds' farm-raised elk, which are fed oats, corn, alfalfa hay and grasses.
Aside from its mild flavor, Edmonds likes to stress how good his elk meat is for you. And people are listening.
"My main focus is on the health aspect of the meat," he said. "That's what attracts buyers in Lawrence."
Copyright 2018 The Lawrence Journal-World. All rights reserved. This material may not be published, broadcast, rewritten or redistributed. We strive to uphold our values for every story published.