As a stunned nation watched Tuesday's terrorist attacks on New York and Washington, D.C., federal government sites in Leavenworth County increased security.
Access to Fort Leavenworth was restricted Tuesday morning after two airlines slammed into New York City's World Trade Center and another airline crashed into the Pentagon, just outside Washington, D.C.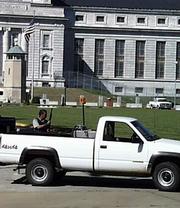 "The most apparent measure is that we're at 100 percent controlled access," said Janet Wray, public information officer at the fort. "Access is limited to the main entrance, and IDs are being checked. There are other measures that are in effect, but because of security, I cannot discuss them."
This summer, the fort actually had begun moving to total controlled access to the facility. Plans called for total control to begin Nov. 1.
Tuesday afternoon, Wray said it was unclear how long the heightened security would be in place at the fort.
"We will be under 100 percent controlled access as long as necessary," she said.
At the U.S. post office in Tonganoxie, Kelly Fowler, officer in charge, said increased security also was in place.
"I've locked up everything," she said. "We're double-checking all the locks."
In addition, about once an hour Fowler walked through the building and all trash was removed from the building.
The American flag outside the post office also was flying at half-staff on Tuesday.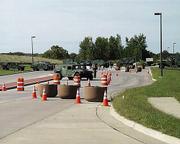 "That's standard procedure for a terrible day such as this," Fowler said.
Because the Federal Aviation Administration halted all commercial air traffic over the United States, the post office was not guaranteeing any express mail packages. And any package weighing more than one pound was subjected to close scrutiny.
"It has to be accepted by a postal employee," Fowler said. "If it's suspicious, we separate it from the rest of the mail. So far, we're trying to conduct business as usual. We're being more cautious. We're fortunate. We know most of our customers."
Access also was restricted to the U.S. Penitentiary in Leavenworth.
Chuck Magaha, the county's emergency management coordinator, monitored reports from across the state. Magaha said Wolf Creek power plant near Burlington had been shut down. In addition, as the nation's airports were closed, planes making unscheduled landings affected several cities.
"The airlines had a given amount of time to get down out of the air," Magaha said. "They had to find the closest airport that could accommodate their aircraft and get it on the ground."
At Kansas City International airport, 89 planes landed, which put a crunch on hotel and motels in the area.
"They've told us we should expect an influx of travelers because they're going to be grounded for an undetermined amount of time and looking for housing and, perhaps, busing," Magaha said.
Leavenworth County Sheriff Herb Nye said he increased the number of officers patrolling the courthouse.
"Other than that, it's business as usual," he said.
Parking near the courthouse also was curtailed.
"We don't want any vehicles next to the building that's what it amounts to," Nye said.
The sheriff said a detention officer who works in the county jail had been activated by the National Guard.
According to Jo Burkett of the Leavenworth County chapter of the American Red Cross, two Lansing residents were placed on alert Tuesday morning that they would be needed on the East Coast. Other Red Cross teams across the region also were sent to help.
"Most of the calls we've had this morning were about giving blood or concerns about individuals at the Pentagon," Burkett said. "That's because of the military influence locally."
Copyright 2018 The Lawrence Journal-World. All rights reserved. This material may not be published, broadcast, rewritten or redistributed. We strive to uphold our values for every story published.