Lima, Peru — Secretary of State Colin Powell said Monday he has "the expectation and hope" that the United States will resume drug surveillance cooperation with Peru and Colombia.
The cooperation has been suspended since April 20, when a plane carrying American missionaries was misidentified as a possible drug flight and shot down by the Peruvian air force. A woman and her infant daughter died.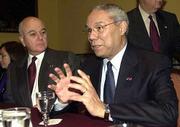 Powell said that no decision has been made on resuming the cooperation.
U.S. officials will soon begin reviewing two investigations into the downing to see if cooperation can resume without putting innocent lives at risk.
"We will make a judgment as to whether or not we now have in place satisfactory procedures that will allow us to move forward in a safe way, in a way that accomplishes the mission of interdicting this kind of traffic and a way that does not ever again allow the set of circumstances to arise which cost the lives of two innocent people," he said.
Powell spoke to reporters on his plane shortly before arriving in Peru to attend an Organization of American States foreign ministers meeting. The ministers are to approve a charter setting democratic standards for the OAS' 34 member nations.
Powell will also visit Colombia today and Wednesday, in a show of support to Colombian President Andres Pastrana in his fight against leftist guerrillas, right-wing paramilitaries, drug traffickers and a struggling economy.
On Monday, the Bush administration designated a Colombian paramilitary group, the United Self-Defense Forces, as a foreign terrorist group. Financial support for the group is illegal under the designation and American financial institutions are required to block its assets.
Both Colombian and Peruvian officials are expected to urge Powell to resume drug surveillance cooperation. The cooperation, along with Peru's policy of shooting down suspected drug flights, is credited with that country's sharp reduction in production of coca, the raw material for cocaine.
Peru has said that drug flights have increased since the shootdowns were halted, but U.S. officials say they have no evidence of that.
A joint U.S.-Peruvian report found that miscommunications and a failure to follow proper procedures led to the accident.
Another report, by a former U.S. ambassador to Colombia, Morris Busby, explored whether the cooperation should be resumed and under what circumstances. It has not been released.
Powell said officials will review those reports before deciding whether to resume cooperation.
"I can just express the expectation and the hope that we will be able to restart," he said.
At the OAS meeting, Powell and the other foreign ministers are expected to approve a charter requiring that OAS members maintain democratic policies or face possible suspension from the organization.
"We're essentially putting down membership rules," Powell said. "If you want to be a democratic nation in this hemisphere, how the other democratic nations expect you to behave and what the standards are with respect to elections and representative government."
Copyright 2018 The Associated Press. All rights reserved. This material may not be published, broadcast, rewritten or redistributed. We strive to uphold our values for every story published.